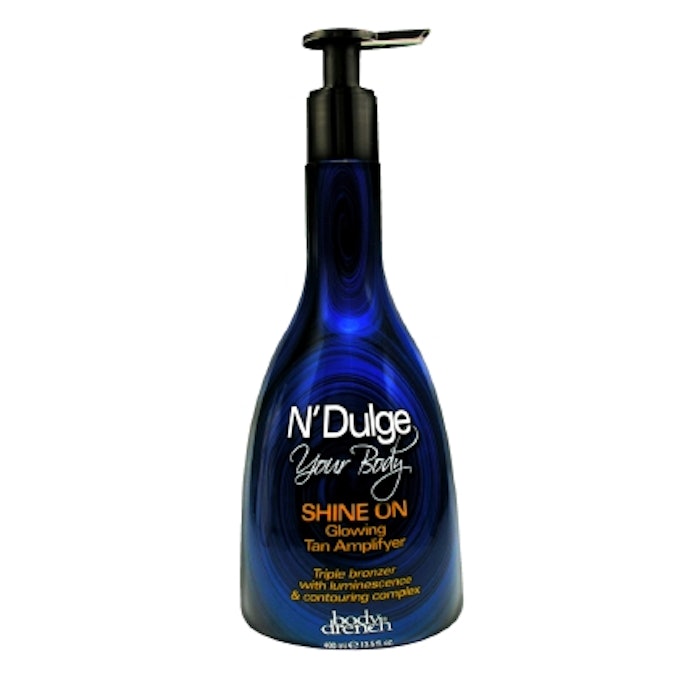 Full-body shrink-sleeve labels create stunning swirls of color for a new line of Body Drench tanning products from American Intl. Industries, Los Angeles. Created to accelerate tanning in the tanning bed or from the sun via five crème formulations, N'Dulge was introduced last year in tanning supply stores and salons in a unique, bell-shaped bottle with a long, slender neck and a locking pump dispenser.

Graphics for the product, which are "a happy medium between a whirlpool effect and a target," according to Body Drench brand manager Morgan C. Kaptain, were designed in-house by Body Drench designer Tony Lomeli to convey indulgence. "Ideally," says Kaptain, "the design should speak to you from the shelf and draw you in."

Seeking differentiation from other similar-shaped tanning-product packages, American Intl. Industries selected the shapely bottle design from among M&H Plastics' (www.mhplastics.com) stock containers. Notes Kaptain, with its long neck, the 13.5-oz polyvinyl chloride bottle for body lotions provides an easy grip when pumping, while the 4-oz version for N'Dulge face cream "fits perfectly in the palm." Locking pumps, in 20/415 and 24/415 versions for face and body products, respectively, are supplied by SeaCliff Beauty Packaging & Laboratories (www.seacliffpackaging.com).

High-shrink PETG film selected
To meet the challenges of manufacturing and applying the full-body label to a bottle with such varying dimensions, American Intl. Industries selected converter
Ameri-Seal
(
www.ameri-seal.com
). Ameri-Seal specified PETG film for the application, due to its high shrink ratio of 80%. Each sleeve is gravure-printed in five colors, with label graphics that depict dramatic spirals of color-in gold, blue, green, red, or purple, depending on the variety-against a deep, black background. Sleeves are directly applied to the bottles at Ameri-Seal's Contract Sleeving Div. in Chatsworth, CA.
Fueled by its eye-catching packaging, the product has so far been successful. "Consumers seem to love the packaging and look, along with the results they see from using the products," relates Kaptain. Body Drench N'Dulge formulations are priced from $18 to $38, depending on the variety.
Companies in this article