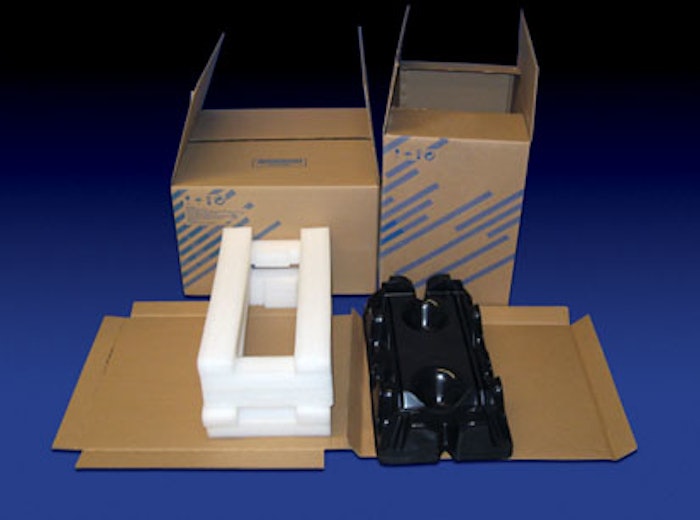 Think back to the events of the last several years. The Sustainable Packaging Coalition was formed and issued the guiding vision of sustainable packaging with its comprehensive definition. Packaging Strategies held its first Sustainable Packaging Forum in Philadelphia, and the industry took note of the huge response to this event. Wal-Mart introduced the "scorecard," and the industry suddenly had to examine its systems of sourcing, designing, converting, and transporting packaging to make those systems more sustainable. And at interpack in Düsseldorf, Germany, while the 2005 show brought 21 exhibitors to a biopolymers pavilion, this past April that number was 40.
Today, suppliers are busy innovating. Barely a week goes by without an announcement of the availability of a new or enhanced material or some sort of "sustainable" service. Supplier plants are receiving notable certifications such as the Sustainable Forestry Initiative (SFI) designation for sound environmental stewardship of forests. And everywhere you look, energy from renewable resources is being harnessed and carbon dioxide emissions reduced.
Consumer packaged goods companies are designing a host of new packages that are lighter and routinely include recycled content. Others have broken into new areas with truly innovative designs utilizing new and old materials in groundbreaking ways. New sustainable packaging awards, conferences, and educational opportunities abound.
Retailers, consumers, non-governmental organizations, and associations are all pushing and pulling the industry to do good and in the process to do well. At the back end, the waste stream, industry, and government are coming up with new ways of improving recovery and reuse of materials.
The following four sustainable packaging stories are snapshots of where packagers are at today. IBM and Evian Natural Spring Water are examples of a total systems approach that ties together corporate emphasis on the triple bottom line—social, economic, and environmental—with materials selection, design, logistics, and end-of-life recovery. In other words, these two firms view packaging as parts of a larger whole. The second two examples, a major U.S. brewery that chooses not to be identified and organic foods company Nature's Path, show how attention to design and materials can bring sustainability benefits.
The advantages of a systems approach
For IBM's redesigned System x servers, a new corrugated shipping container and internal packing cost more than the shipper they replaced. But when costs for logistics are factored in, IBM actually comes out ahead. That's because the components that make up the new packaging format are nestable, which means fewer trucks and fuel are needed to transport the components into the plants where the servers are packaged. Not only that, the new shipper is more sustainable and environmentally friendly. Every component of the shipping container is made from 100% recycled materials that can be recycled again.
IBM has launched several social, environmental, and economic sustainability initiatives, including Project Big Green, a $1 billion investment to bring new levels of sustainability to IBM products. "My manager and I talked about the opportunity of contributing to sustainability before we redesigned the System x server package," says William Green, manager and packaging engineering team lead in the IBM Integrated Supply Chain. "From the beginning our team had a mandate to come up with a flagship package, a package that would develop our expertise in sustainable packaging and advance our overall practice in that discipline."
Green and his team were given the freedom to explore the possibilities. This broadened their horizons beyond the boundaries of the price and performance of the package. They were encouraged to think outside the box, both literally and figuratively.
A key to the direction they eventually took is that the new generation of System x servers—made directly by IBM in Shenzen, China, and by contract manufacturers in Mexico and Hungary—is more rugged than the models being replaced. A sturdier product meant that the packaging team and the mechanical development team could coordinate their efforts so that as the ruggedness of the product climbed, the amount of packaging material could decrease. This joint effort was particularly important for the design of the new shipper. The packaging team wanted to create a package using 100% recycled materials, and recycled materials generally offer less protection than their "virgin" counterparts.
"There is an interesting correlation between the ruggedness of a product and the ability to design a lighter and less material-intensive shipper for that product," says Green. "Fragile products require greater protection, which for shippers can mean more material and a heavier package. We wanted to take advantage of the inverse—more rugged product paired with a lighter package made from less protective recycled materials."
Green's team not only worked with the mechanical department at the front end in determining and designing to fragility specifications, but also at the back end where packaged System x servers were subjected to shock testing. From the start, the package design team wanted to create a complete shipping solution using 100% recycled materials. Says Green, "Our goal from the beginning was to consume recycled materials across all the packaging components, and I am proud to say that we achieved that goal."
Sourcing virgin fiber and polymer is more energy and greenhouse-gas intensive than using recycled materials. The packaging team's emphasis on using 100% recycled materials was an across-the-board source reduction strategy. Using recycled materials also decreases the need for waste disposal and achieves one of the goals of sustainable packaging—a cradle-to-cradle system for materials.
Working closely with converters, the team secured 100% recycled corrugated for the shipper, poly bag, and black HDPE thermoformed cushions, which come from ReFlex (www.reflexpack.com). Part of the learning experience for the team was determining availability of materials in different geographic regions; another was becoming familiar with the performance characteristics of the reclaimed materials.
Attention to design
"The design of the thermoformed cushions contributed to decreasing the economic and environmental burdens of transportation," says Green. "The cushions, which are made from post consumer plastic such as milk jugs, nest in one another when inbound. We can fit 10 times the number of cushions in a 40 foot trailer as compared to the expanded polyethylene or expanded polypropylene foam cushioning they replace. This means the trucking firm is consuming one-tenth the fuel and emitting one-tenth the emissions as compared to shipping the foam cushions. IBM is incurring significantly lower transportation charges."
In addition to fuel, emissions, and transportation savings from fewer incoming trucks with cushions, IBM saves on its outbound third-party trucking expenses. The more rugged System x servers allowed IBM to design a lighter and smaller shipping package.
"We paid a premium on the recycled corrugated boxes," says Green. "However, the savings from the nesting thermoformed cushions inbound and the smaller, lighter, and less material-intensive package outbound cut our overall costs as compared to the package it replaced. This is a case of sub-optimizing the package in terms of cost while optimizing the overall goals of logistics."
Every component of the package is recyclable and is labeled accordingly. The hope is that a high percentage of the fiber and polymer will be reused. The team is now working on a new 100% recycled material shipper for a hard drive that will feature higher ruggedness. Meanwhile, the best practices and lessons learned on the System x server project are percolating throughout IBM.
Green believes that third-party logistics companies—the trucking firms—need to play a part in sustainable packaging by reducing shock and vibrations and also by packing trailers and trucks more tightly. Just like a more rugged product requires less protection from its package, a smoother and less bumpy ride can also contribute to a more sustainable package.
Evian Natural Spring Water's systems approach
On Earth Day this year, Evian Natural Spring Water in Evian, France announced its latest initiatives for sustainability. These included the creation of the Evian Water Protection Institute, the use of recycled PET (rPET) in its most popular bottle sizes, and the launch of a new partnership with RecycleBank.
Elio Pacheco, president of Evian North America, has this to say about The Water Protection Institute: "Currently, it is estimated that one billion people in the world do not have access to clean drinking water," said Pacheco. "Through the best practices garnered from protecting our own unique resource in Evian, France, we are committed to sharing this expertise with communities around the globe where local water resources may be at risk."
Within the Danone Group, of which Evian is a part, the water company launched an internal conservation program. In the past five years, more than 920 million gallons of water have been saved at Danone food and beverage facilities around the world.
At the Evian bottle facility in Evian, France, almost nothing is thrown away. Approximately 98% of the plant scrap is sorted on site within a 107,000-square-foot semi-automatic sorting center. The waste plastic is recycled and subsequently manufactured by other companies into such goods as clothes and carpets. At end of life, wood pallets are used as fuel for the plant's boilers.
This year Evian introduced a significant percentage of post-consumer rPET in its most popular bottles, the 1-L and the 750-mL sizes. The 750-mL bottle is now made of 25% rPET. The company was the first in its industry to switch from PVC to PET water bottles. Evian introduced the first compactable bottle aimed at reducing wasted space within recycling bins, fitting more crushed bottles into the bin, and helping the overall recyclability of its bottles. "Evian strives not only to counteract its effect on the environment, but also to truly lessen its footprint on the world by improving our packaging," says Pacheco.
Evian calculates that using a truck to transport one ton of goods generates 100 times more greenhouse gas emissions than carrying the same weight by train. Today, Evian takes the equivalent of 40,000 trucks off the road by shipping 80% of its bottles from its plant in France to European ports by rail. The company ships to North America and throughout the world using maritime containers, one of the most fuel-efficient means of transportation. The maritime transport containers are unloaded at several ports strategically located along the coasts of North America to minimize transport from the port to the final distribution point.
Getting involved at the back end
Evian, Coca Cola, and many other companies have joined the RecycleBank, (www.recyclebank.com) -an organization that offers rewards from its partner firms for consumers who recycle. RecycleBank motivates households and communities to recycle by measuring the amount of recyclables and converting the weight into RecycleBank Reward Points. The points can be viewed and redeemed for products and services at the organization's website. More than 400 national RecycleBank Reward Partners such as Evian, Coca-Cola, Kraft Foods, CVS/pharmacy, and Green Mountain Coffee, as well as local reward partners such as restaurants and grocery stores, contribute premiums.
Without higher rates of collection, the packaging industry will not progress toward the promise of a cradle-to-cradle system of resource conservation. Recycling must become a stronger link in the sustainable packaging chain. Evian, Coca Cola, and hundreds of other companies are becoming involved at the back end of the system to help change this by joining with RecycleBank.
If Evian simply focused on the package and not on water conservation, transportation, and recycling, the company's packaging programs would be out of context and less effective. Similar to what we saw with the IBM shipping case redesign, Evian's inclusion of rPet in its bottles has more support, overall success, and greater impact because it's part of an enterprise-wide commitment to sustainability.
What a difference an inch makes
Nature's Path Organic Foods of Richmond, British Columbia, claims it is North America's number one organic cereal brand. "We have always sought to minimize our impact on the earth, while maximizing our ability to deliver the earth's nutritional bounty to our customers," says Jyoti Stephens, Sustainability and Stewardship Manager. "That's why we went beyond producing delicious, organic food products and reconfigured our cereal packaging, too. We reduced the box size by 10% while maintaining 100% of the net weight of the cereal within the box."
The package, which the company calls EnviroBox, was introduced in 2005. The EnviroBox is one inch narrower, one-fourth inch taller, and one-eighth inch deeper than the package it replaced. The company converted more than 50 SKUs to the EnviroBox configuration in 2007. Stephens reports that consumers feel they are receiving their money's worth because the EnviroBox is filled more to the top. Retailers such as Whole Foods Market appreciate the change for both the environmental benefits and the fact there are now eight boxes across on a shelf, up from seven boxes for the package it replaced. This uses space more efficiently. Society and the environment benefit. Nature's Path calculates that the redesign annually results in the savings of:
• 144 tons of paperboard
• 942,128 kWh of energy
• 1,318,979 gallons of water
Nature's Path realized a significant logistics savings. Some 400 trucks have been removed from the company's annual shipping requirements. Increasing the number of packages per pallet and creating more compact loads per trailer were responsible for the decrease in the number of outgoing trucks. Continuing its sustainability efforts, Nature's Path is now in the testing phase of a compostable inner film for its boxed cereal package.
Brewery moved up to high performance materials
A major brewery wanted to source and transport less packaging. Working with MWV (www.meadwestvaco.com), the brewery transitioned from an E-flute 24-bottle case to one constructed of MWV Coated Natural Kraft® paperboard and KraftPak® Board. This higher performance material meant that 2,400 more cases could be packed per trailer load. The company reduced the number of outgoing trailers by 4% and the number of wood pallets was cut in half. The new case uses about 7% less material than the corrugated case it replaced and includes post consumer and industrial recycled content.
The materials for the new carton met the brewery's performance criteria, including high tear and compression strength. Even when wet, the cartons retain 80% of specified tear strength. The carton also offered an excellent surface for printing high-impact graphics.
One of the key features of the sustainable packaging movement is the investment that suppliers are making in the development of lighter and source reduced materials. Development is also ongoing to incorporate recycled content. Although pound for pound these high-performance materials may cost more, most applications should see a reduction in total overall system cost, including less material purchased and transported into and out of the plant.
It is axiomatic that a package can only be light-weighted to a certain extent. At some point, the consumer packaged goods company must consider adopting a higher performance material or moving to a significantly different type of package in order to continue improving the sustainability of its packaging.
What do IBM, Evian, Nature's Path, and the unnamed brewery have in common? They each tell the story of a packaging community learning important lessons, a community dedicated to reducing the environmental and social impacts of packaging. As a famous 1950s TV show might have put it, "There are eight million stories in the sustainable city. These have been four of them."
Companies in this article