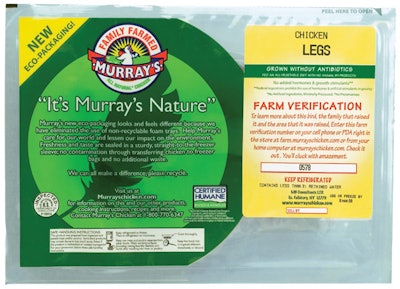 Murray's prides itself on offering family-farmed chicken products, free of antibiotics, growth drugs, and hormones, that carry the Certified Humane Raised & Handled label. According to SustainableIsGood.com, with its new package, Murray's becomes "the first poultry company to eliminate the use of polystyrene foams trays."
Relates Murray's vice president of sales and marketing Steve Gold, "As a company that takes social responsibility seriously, the foam tray was always a thorn in our side, and we have long been exploring options. We're excited to now offer a smart and environmentally responsible alternative."
The new film package, introduced in March in supermarkets where Murray's is carried (products are distributed from Maine to Florida, and from Chicago to the East Coast), is a horizontal form/fill/seal package with a nonforming top web and a bottom web that forms to the product. The film is a proprietary, multilayer structure from
Winpak
(
www.winpak.com
) that Gold says was engineered to provide a high level of puncture- and abrasion-resistance, as well as high gas and oxygen barriers. The structure enables a 15- to 17-day shelf life, he adds; however, the package states 12 days for safety's sake. The package is produced on a Repak RE 20 f/f/s machine from
Reiser Intl.
(
www.reiser.com
).
Designed to be freezer-safe, the new package features a proprietary, leak-resistant seal, produced using an environmentally friendly adhesive, that eliminates the need for the product to be wrapped in a secondary bag at retail checkout or at home for storage. "This is going to be a learning curve for the consumer," notes Gold, "but it should result in a savings in paper and plastic."
Other environmental advantages of the package include the elimination of the master bag and the reduction in size of the product's master case by 3 in. While seemingly small, Gold emphasizes that the 3-in. case-size reduction translates to a savings of 3,600 trees per year, the removal of the equivalent of 1.128 million lb of CO2 emissions per year, and a reduction in solid waste of nearly 456,000 lb per year.
A bit uneasy about making such a dramatic change to its established package, Murray's kept its company logo intact on the front of the pack to facilitate brand recognition. The printed top film web is also used to educate consumers on the advantages of Murray's new, eco-friendly package.
Companies in this article