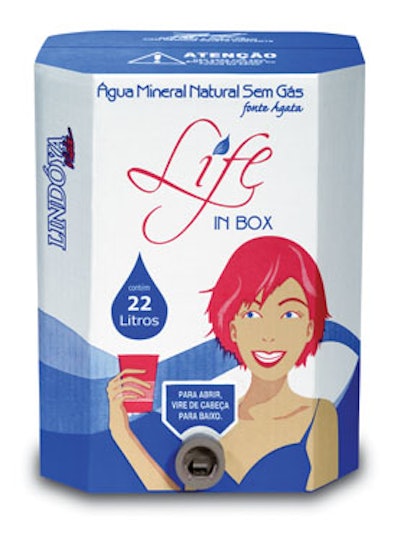 wo essential resources, drinking water and wood, play a pivotal role in an award-winning package: Lindoya Vida. Translated as "Life in Box," the 22-L (5.8-gal) octagonal bag-in-box of mineral water is from bottled water supplier Mineração Mantovani, based in Lindóia, about 95 miles northwest of Sao Paulo, Brazil.
The BIB package system comprises an outer corrugated box with two die-cut handles made by Klabin (www.klabin.com.br) - Brazil's largest paper producer, exporter, and recycler—and a laminated, valved bag supplied by DuPont Liquid Packaging Systems/Liqui-Box (www.liquidpackaging.dupont.com) especially engineered for bagged water applications.
The two-ply bag has a 3.8-mil outer ply made of a biaxially oriented nylon composition and an inner ply that is a 2.5-mil contact layer of polyolefin. DuPont Liquid Packaging Systems supplies the premade bags in both 3- and 5-gal sizes equipped with a dispensing tap. Bags are filled using a Liqui-Box model 1000 CIT-W filler installed in Brazil that can produce four 5-gal bags/min. A 12-L (3-gal) version will be launched in the coming months.
The octagonal shape of the box was chosen for its aesthetically pleasing attributes as well as the fact that it palletizes well.
The 22-L BIB was officially launched in December 2007 in towns on the Brazilian coast.
The project began in early 2007 when Klabin set out to find sustainable packaging that could guarantee the water quality from the time of filling through consumption. Klabin's definition of sustainable meant packaging that was economically viable, environmentally proper, and socially just.
Economically viable refers to the per-liter price of the new box when it reaches the market. The target was a per-liter price between that of Mineração Mantovani's two most popular containers, a 20-L bottle and a 1.5-L PET bottle.
Environmentally proper: The 100% recyclable, biodegradable corrugated exterior comes from renewable resources of raw materials, forests. It is certified by the Forest Stewardship Council (www.fscus.org), the international body that governs proper management of forests and their production chain. The internal plastic bag and the pouring valve are also recyclable.
Socially just: The packages are guaranteed tamper-proof packaging; also, the companies involved in their manufacture collaborated to develop the communities in which they are located. It is claimed that the exterior corrugated box and the internal bag and valve are recyclable.
Besides the environmental benefits, the corrugated box prevents light from getting in, and it also insulates the water from heat to help impart a sensation of "fresh water" for much longer than clear bottles.
The high-strength corrugated box, printed in three colors on a "white-top" kraft liner, is sealed with hot-melt adhesive. The tamper-evident valve allows the bag to be filled without any manual contact and permits water to be dispensed in an easy, hygienic manner, Klabin says. The air-tight nature of the package is maintained from filling through consumption.
Companies in this article