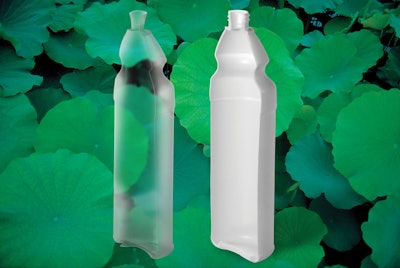 When Gaplast GmbH's (www.gaplast.de) customer built a new production plant recently, the company decided it was time to explore a more efficient manufacturing process for its disinfectant spray bottles. (Gaplast GmbH's customer chose not to be interviewed for this article). The firm's 1-L bottles used for disinfecting lab and surgery room surfaces required a four-part process as well as manual assembly. Bottles were extrusion blow-molded using HPDE. A separate foil bag had to be stuffed into the bottles manually to maintain the airless functionality necessary for ensuring that germs or microorganisms are not sprayed together with the disinfectant liquid. A connector and gasket had to be injection molded, and the connector had to be welded to the foil bag to provide a sealing area for the gasket.
Gaplast GmbH replaced the customer's four-part production process with the one-part AirLEssMOTION Bag-in-Bottle System. The new coextruded, blow-molded bottle consists of a rigid PP outer bottle and a flexible DuPont Surlyn internal pouch. The previous foil bag consisted of a polymer alloy of two different polymers. Because the polymer alloy would have sealed to the PP outer bottle, a separation layer would have been necessary in the new bottle, thereby increasing production costs. As a result, Gaplast GmbH replaced the polymer alloy with DuPont Surlyn for the bag material.
When activated, the vacuum built up by the airless trigger was not enough to separate the PP and Surlyn layers; therefore, Gaplast GmbH had to make two air ventilation holes in the outer bottle without piecing the inner pouch layer. This ensures that the inner bag collapses as soon as the trigger is activated. The holes also serve as an anticounterfeiting feature.
The new package retains the same functionality as the previous bottle, including 360º usage; constant dosage of the trigger pump, thanks to guaranteed delamination of the pouch away from the bottle; and an improved restitution rate, thanks to an eagerly "sucked out" inner bag. In addition, the airless technology and gamma sterilization after filling obviate the need for preservative agents.
According to Gaplast's customer, the new airless bottle has increased production efficiency by an estimated 60%. Connectors and gaskets are no longer needed; therefore, bottles can be fed directly to the filling machine. The reduction in parts not only saves production time and costs but also results in a more reliable system: Less parts means less risk of leakage or damage. In addition to savings in raw materials, the new package simplifies waste recovery when disposed of because the bottle and bag belong to the same polymer family.
Companies in this article