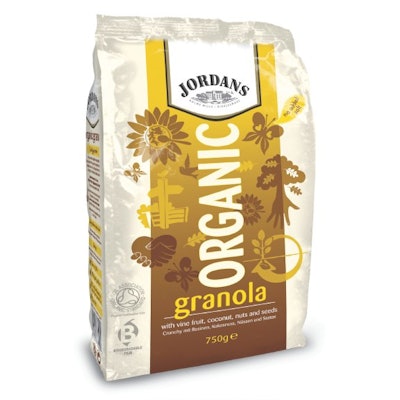 A bag for Jordan UK's organic cereal varieties has earned a DuPont (www.dupont.com) award for its innovative combination of films, inks, and adhesives. The bag meets Europe's Din Certco accreditation requirements for full compostability in a commercial or domestic setting; Din Certco is a widely recognized certification organization.
A family-owed company, Jordans, of Biggleswade, Bedfordshire, U.K., is the largest manufacturer of organic breakfast cereals in the U.K. and is, according to company literature, "driven by a passionate belief in the benefits of healthy eating and natural food."

In 2005, to further extend its environmental commitment-the company practices natural farming methods and uses organically sourced ingredients-Jordans began working with Alcan Packaging Dublin Ltd. (www.alcan.com) to develop a fully compostable bag for its new Organic Granola and its Organic Muesli.

According to David Maxwell, a member of Alcan's product development and technical service in Dublin, project challenges included meeting Din Certco requirements for material weights and for the heavy-metal content of inks and adhesives. "The rules for compostability are strict and defined, and thus, the package thickness had to be similar to the existing Jordans' packs," he explains.
Two-layer lamination with barrier

The resulting structure is a two-layer lamination of compostable materials. The top layer, made of NatureFlex(tm) NE30, is a wood pulp-based film from
Innovia Films
(www.innoviafilms.com) that is coated on both sides with a wax coating that provides barrier properties. The inside layer is made from Mater-Bi NF1OU from
Novamont
(www.materbi.com), a material made of "renewable resources of agricultural origin," according to its supplier.
The bag's top layer is gravure-printed in seven colors using inks from
Flint-Schmidt
(www.flint-schmidt.com), while off-line solvent lamination is done using a two-component PUR adhesive that provides high laminate bond strength.
According to Maxwell, the successful conversion of the film relied on a process of controlling the treatment energy levels. The film web achieves a low coefficient of friction, allowing for smooth bag formation on Rovema (www.rovema.com) equipment, he adds.

The block-bottom bag was introduced into stores last year, and according to Jordans, has met with "positive and encouraging" feedback from retailers and consumers. "The bag improves our company's green credentials, while offering a sustainable [material] source with a useful end product: compost," the company says.

Full coverage of the DuPont Awards will appear in the May issue of Packaging World.
-Anne Marie Mohan


Companies in this article