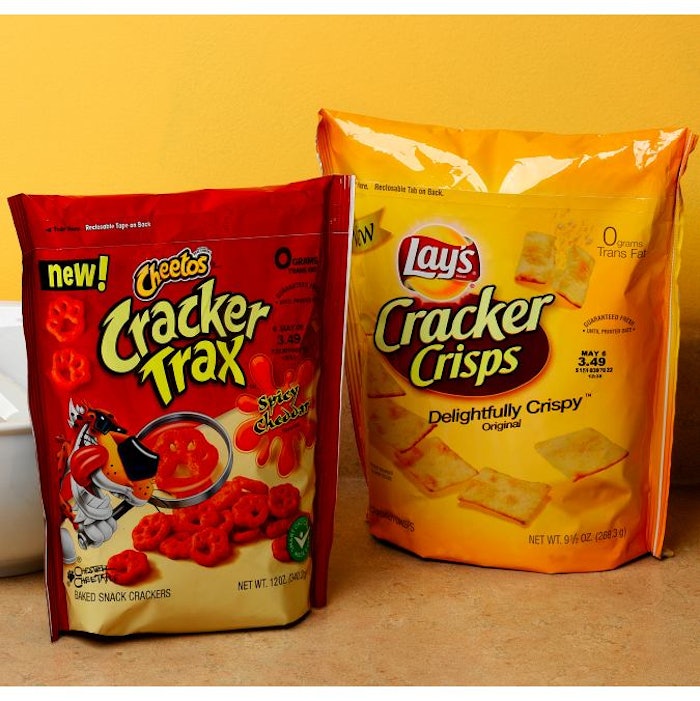 Three Lay's varieties and two "Dangerously Cheesy" Cheetos-flavored baked snack cracker products were launched in February to provide consumers with a nutritious snack option—the crackers have zero trans fat per serving—"all while delivering the great taste of Lay's," relates Frito-Lay spokesperson Deanna McKinley.
Meanwhile, cracker packaging comprises a cleverly constructed, resealable, flexible stand-up pouch that meets consumers' closure expectations for cracker products, while still being able to be produced on existing Frito-Lay vertical form/fill/seal equipment. Dubbed a VSU (Vertical Standup Unit) by Frito-Lay's R&D packaging department, which patented the pack format, the bottom-gusseted pouch is formed on a vf/f/s bagmaker fitted with a proprietary VSU kit, where the sides of the bag are actually the top and bottom of the bag, explains McKinley. "The bag is then turned on its side to produce a stand-up pouch," she says.
Resealability is achieved with a slit-score technology employed during converting that creates a tear notch and score on the front and back panels near the top of the bag. When the bag is opened via the score, the top portion of the bag can be detached and discarded. A removable, pressure-sensitive tab located on the back of the bag can then be peeled off and used to reseal the bag flaps.
Bag film for the snack crackers is supplied by Bryce Co. (www.brycecorp.com). It's a high-barrier, two-layer structure of 100-ga biaxially oriented polypropylene extrusion-laminated to a 110-ga polyester. This construction was chosen, McKinley notes, for its barrier and shelf-life properties, as well as its slit-score ability and stiffness. The OPP layer is reverse-printed in seven colors on a flexo press. The Lay's variety crackers are filled at the company's Dallas baked-snack plant, while the Cheetos snacks are packaged at Frito-Lay's Frankfort, IN, plant.
The 9.5-oz Lay's snacks and the 12-oz Cheetos products are available at retail stores nationwide for $3.49.
Companies in this article