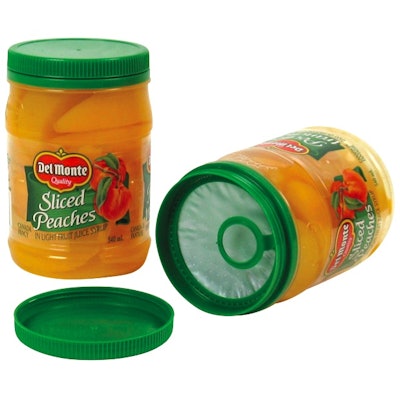 Toronto, Canada-based private label packer of canned fruits and vegetables CanGro Foods Inc. has introduced an innovative polypropylene jar and closure system developed in cooperation with
Graham Packaging Co. L.P.
(www.grahampackaging.com) and
Bapco Closures
( www.bapcoclosures.com). The clear, shrink film sleeve labels are supplied by
Fort Dearborn Co.
(www.fortdearborn.com).
One of the first applications is for CanGro Foods' Del Monte brand fruit in six varieties: sliced peaches, fruit salad, very cherry, sliced pears, pineapple chunks, and mandarin oranges.
The 540-mL (19-oz), cylindrical, extrusion-blown, wide-mouth, high-clarity, PP jar weighs 42 grams empty without the lid. The straight-sided container's neck finish is not rolled or beaded, but rather described as conditioned and cut with a hot blade. The neck threads of the PP jar have been removed and incorporated into the unique, lightweight, 82-mm snap-on Bapco
Twister
closure system that includes a foil membrane induction-welded into position to create a secure, leak-proof vacuum seal.
Consumers simply peel off the foil membrane by using a convenient, built-in pull-ring. Remaining product can be resealed in the jar by snapping back on the plastic overcap.
Fast fill, easy access opening
The wide-mouth jar facilitates fast filling during the packaging operation, which is followed by pasteurization, and it provides easier product access for consumers.
The jar is claimed to be fully recyclable.
CanGro's director of R&D and quality Mark Hagar says that his company is particularly pleased with this convenience factor of the Graham/Bapco packaging system. "The large opening makes it simpler for the processor to fill the food product and for the consumer to portion it out," says Hagar.
-Judy Rice
Companies in this article