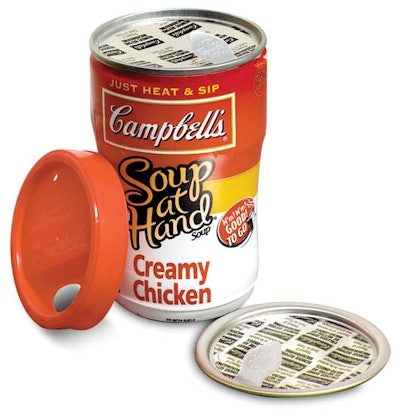 The side adds, "Our heat-and-go microwavable cups let you enjoy sippable soup anytime, anywhere." To show how easy it is to consume directly from the Soup at Hand container, an online graphic offers the following instructions: "1. Pop the top. 2. Microwave. 3. Grab n' go."
Packaging is critical for the 13 103⁄4-oz Soup at Hand varieties, which were first introduced in the 2002/2003 "soup season," says John Faulkner, director of brand communications with Camden, NJ-based Campbell Soup Co. So much so that the ultra-peel, retortable membrane end from Watson Standard Adhesives (724/274-0650) and Sonoco earned a Highest Achievement (in Technical Innovation) and a Gold Award from the Flexible Packaging Assn.
Watson Standard provides a retortable heat-seal lacquer coating that Sonoco applies to metal that it manufactures into the finished metal ring-pull ring.
"This is the first such application of this peelable foil end in the U.S. market," says Faulkner. "The new end has been developed to make the product more convenient and easier to open. The basic container is a plastic cup with an aluminum ring with a peelable foil seal. The container has a plastic overcap, which is used for sipping the soup."
The lidding is "the first retortable, peelable membrane end in the U.S. that has a more even and consistent peel than the rigid aluminum EZ open end," adds Bill Allen, Watson's manager of market development.
The white, high-density polyethylene soup container is tapered at the waist to make it easy to hold while on the go. The container is insulated with a full-body, sleeve label that includes printed instructions that instruct consumers to remove the red plastic overcap, then use the ring-pull to "remove metal lid and discard. The remaining metal rim is microwavable." After heating the soup for about a minute and stirring it, the user reapplies the overcap and sips the soup through a slit in the overcap.
Soup at Hand sippible soups are available nationwide for $1.79 in several varieties, including 25% less sodium, with similar soups available in Canada. Recommended shelf life is one year. Faulkner says Soup at Hand is produced at two Campbell locations: Marshall, MI, and Maxton, NC. Asked if new packaging machinery was necessary to fill the soups, Faulkner says, "The products are designed to take advantage of our existing manufacturing assets."
Companies in this article