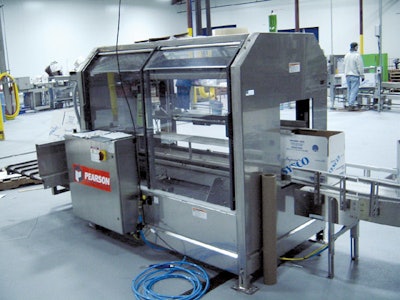 Jasper Wyman & Sons, Cherryfield, ME, is a leading grower, processor, and packer of wild blueberries and cranberries that also packs blackberries, raspberries, and strawberries. Among these products, wild blueberries are the main crop grown on more than 9,000 Wyman family-owned acres. The company packs its own brand for retail and foodservice sales, and also supplies berry ingredients to several major food processors, such as Sara Lee Corp. and Otis Spunkmeyer. In both 2006 and 2007, Wyman won a Top Supplier of the Year Award from foodservice supplier giant SYSCO.
In addition to the main plant in Cherryfield, Wyman also operates a freezer and tote bin packing plant in nearby Deblois, ME, and a freezer and carton-packing facility in Morell, PEI, Canada. In early 2007, the company decided to overhaul its blueberry retail and bulk packaging operations at the Cherryfield plant. It was a huge undertaking that in total extended from February through June 2007. As Bob Stanley, Wyman's director of engineering, notes, "In order to install and start-up the new systems, we had to shut down packaging operations for seven weeks. This meant we had to run a lot of double shifts and weekends to keep our customers' orders filled during the shutdown and changeover period.
"The whole Wyman team was involved in scheduling production in preparation for the shut-down, determining project objectives, and selecting the new equipment. With the exception of the refrigeration and IQF (individually quick frozen) freezing systems, all of the engineering and layouts were done in-house, using Auto-CAD computer-assisted design. And we did use some sub-contractors for concrete construction and stainless-steel fabrication for walls, floors, and drains."
Bulk-pack upgrade

Wyman had been using case-erecting and bag liner-insertion equipment along with netweighing scales to produce bulk packs of IQF blueberries for many years. But, over time, the equipment had become outdated, corroded, and inefficient. On several trips to Pack Expo shows, Wyman staffers had seen and evaluated case-erecting and bag liner-insertion machines. For the renovation of their blueberry bulk-pack operations, they decided to purchase a Model CE25-ST case erector and a Model BI 18-S bag inserter manufactured by Pearson Packaging Systems through packaging systems sales rep agency FEI Packaging Solutions (508/888-9567).
Stanley says, "One of the reasons for selecting this equipment was for the easy access from both sides of the machine. Adjustments are made easier because of the numbered scales and dials located on all of the adjustable components. Each case size has its own settings, and these have been documented for use by the operators. Access for maintenance and cleaning is also very easy, and the operating manuals sent with the machines are straightforward and easy to use.
"The Pearson equipment is mostly stainless-steel construction, and in our opinion, is some of the best-designed equipment on the market today. Also, it is capable of higher speeds than our previous equipment and more operator-friendly," says Stanley.
The new casing system handles case sizes of 10-, 20-, and 30-lbs, and designed to facilitate size changeovers. Most of the corrugated case flats are supplied to Wyman by Interstate Container Corp. The premade, nongusseted bag liners are supplied on perforated rolls by PPC Industries. Wyman uses two liner structures, depending on berry pack volume. One is 1.5-mil polyethylene, and the other is 2.25-mil PE.
After the erected cases are lined with the open film bags, berries are filled into the bags, using a netweigh scale/filler Model 2-XL-SS, manufactured by Ohlson Packaging. The bags then are manually folded over and tucked into the cases before the case tops are sealed using a Model CT-400 case taper from Fallas Automation. After exiting the taping machine, the cases are coded by a Marsh Patrion Plus® coder from VideoJet and inspected by a metal detector from Loma Systems. Also new to the bulk-pack line is an automatic case checkweigher supplied by Packaging Distributors Inc. Ninety-degree curve conveyors made by Nercon Engineering & Mfg. Inc. lead into and away from the bulk filling line.
Wyman staff did the preliminary assembly, leveling, and set-up of the new bulk-pack line, as well as bringing all the utility power and air piping to the machines. Pearson technicians were on-site for start-up and training of the machine operators and maintenance personnel.
Stanley notes, "We sent sample cases and liners to Pearson so they could make sure all the cases and liners would run properly. When the machines arrived on-site, there was very little set-up work to be done. The Pearson techs spent a total of three days here working with the maintenance staff and operators and did extensive training, as well as showing us how to do the case and bag changeovers. They were very helpful and have a great over-the-phone support team, too."
Wyman production manager Ken Davis agrees, saying, "Whenever I have a problem or question, they call me right back, which means a lot."
'Berry' bulky benefits

Summing up the benefits of the new bulk-pack operations, Stanley comments, "We freeze our total wild blueberry crop for the year in basically four to five weeks during the month of August. We try to package as much finished and graded product as possible during that time. Therefore, downtime must be kept to a minimum. We run 24/7 during this time period. And this year we were able to exceed our previous line speed and finished product output by about 40 percent. We used to run 30-lb cartons at about eight per minute, but we could not average that due to a lot of downtime. We now are able to average 12 per minute for the 30-lb cartons and 15 per minute for the smaller cartons.
"Our line speed was increased because filling times were shortened. And that's because our filler was never left waiting for cases. In addition, the case-erecting and bag-inserting machines are very operator-friendly, and changeover time for bag rolls and tape rolls is much less than our previous machines. So we have very little downtime," Stanley points out.
Jasper Wyman & Sons estimates its payback time on the new casing equipment to be approximately three years. Stanley says, "The increased speed and efficiency of the new system eliminates the need for double shifts and overtime to meet our customers' orders."
Retail pack upgrade

Wyman also has expanded and improved the packaging operations for its retail-size bags of IQF blueberries and other fruits. The new retail bagging operation includes an Advantage vertical form/fill/seal bagger with a Selectacom scale system—both from Triangle Package Machinery—to produce 3-, 5-, and 6-lb pillow-pack bags, primarily for warehouse and club stores. This line runs simultaneously with the retail packaging operations of the existing (since 2001) zipper-pack, stand-up pouch horizontal form/fill/seal machine manufactured by Klöckner Bartelt, Inc. The 15-oz reclosable SUP blueberry packs are marketed primarily to supermarket chain stores around the nation.
The pillow packs are formed from 3-mil polyethylene film, flexo-printed in 8 colors and supplied by PolyCello, a division of EPC Industries Ltd. The stand-up pouches are formed from 48-gauge polyester/3.75-mil polyethylene film, also flexo-printed in 8 colors and supplied by PolyCello.
After forming, filling, and sealing, the pillow-pack bags are conveyed to a Loma (www.loma.com) combo metal detector/checkweigher. Then the bags are channeled to a semi-manual case-packing station supplied by Wrabacon Inc. before the cases are taped closed by a Model Supertaper 1A from OK Intl. Corp. and coded by a Model 5200 large-character touch-dry-ink coding system from Markem Corp.
The Klöckner Bartelt SUP machine in the retail bagging operation is a Model RPM 725 with a zipper application attachment. This system, too, incorporates a Triangle Selectacom scale. The SUPs also are channeled through a Loma metal detector/checkweigher and a Wrabacon case-packing station. Then the cases are taped closed by a Fallas Model CT 400 automatic taping machine before being coded by another Markem Model 5200 coding machine.
Stanley says, "We are running our 3-lb blueberry pillow-packs at 45 per minute. Before the renovation, we ran at 30 to 35 per minute. We're running the 15-oz stand-up pouches at 60 to 65 pouches per minute."
He adds, "The difference between this new retail bagging operation and the old one is that before we were only able to run one of the bag lines at any one time. The one Triangle scale we had was able to feed one bag machine or the other by means of a chute that was transposed from one to the other. We also only had one metal detector, no automated checkweighing (just manual checking on a regular basis), and only one packing table large enough for two case-packing personnel. Now we run the lines in parallel at the same time because we built a bigger mezzanine, added another Triangle scale, added the combo metal detectors/checkweighers to both lines, and have separate packing tables large enough for four people each. And each line has its own case-taping and coding machines."
Wyman senior operations manager Ellen Rossi reports, "The new bagging system is very efficient, and packaging materials waste and berry product waste are kept to a minimum."
Ground-up packaging room face-lift

Emphasizing the scale of this packaging room overhaul, Stanley says, "This was a 'from-the-ground-up face-lift' for Wyman. Not only did we install new packaging systems, but we also installed new floor drains; new epoxy floors, done by Tufco Flooring, Inc.; new fire-proof, insulated wall panels, manufactured by Metl-Span and installed by CCB, Inc. Westbrook, ME; and new ceiling-hung cooling fans, manufactured by Evapco and installed by RECCO, Woburn, MA. This new room is maintained at 45º to 50º F, due to the requirements of our frozen product packaging.
"Our production has increased by 100 percent on the retail lines, and the quality of our finished packaging has improved. Production manager Ken Davis and automation and electronics expert Randy Marsceill keep the lines performing at peak efficiency," Stanley concludes.
Companies in this article
Videos from Nercon Conveyor Systems
Videos from Triangle Package Machinery Company