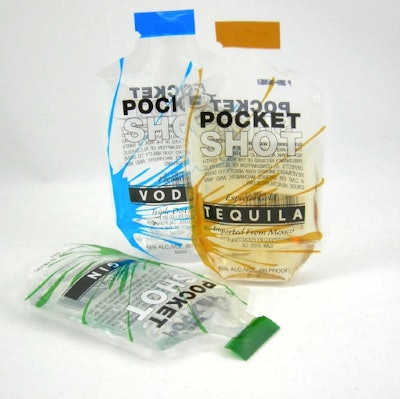 Glass and PET "mini" sizes of liquor bottles will have to make room for another format: 50-mL stand-up flexible pouches, a bottle-like "flexible flask" complete with a notched neck for easy tear opening and pouring.

After a successful test market in California last summer, Pocket Shot, San Jose, CA, began distribution of its unique single-serve liquor pouches in 2007 in select states such as AZ, MO, and WI. The line of 80-proof products includes whiskey, rum, vodka, tequila, and gin.

"We're not just selling alcohol, we're providing a fun and functional way to break out of the bottle that fits with an active and on-the-go lifestyle," says Pocket Shot founder and owner Jarry Bachmann. "Looking at how market demand has exploded for single serve, on-the-fly convenient and easy-to-use products, I wanted to develop something that consumers want and can use anywhere."

Bachmann calls his package the first new concept in alcohol packaging in North America.

The 3-layer structure of PET/aluminum oxide-coated PET/polyethylene is produced and converted into premade pouches—including an easy-open notch—by Amcor Flexibles Europe, part of Amcor (www.amcor.com). Decorated with three-color rotogravure printing, the pouch looks and stands upright like a bottle.

Graphics design for the pouch and a display carton were done by PackagingARTS (www.packagingarts.com). It also provides the 12-count carton that converts into a shelf display tray. Offset-printed in five colors plus aqueous coating, the 24-pt SBS carton features extensive perforations for easy setup.

"The design is simple, yet sophisticated, something that we could put on the shelf and 'tells' our story very quickly," observes Bachmann.

Filling done at 20+ pouches/min

Contract filling is done by Frank-Lin Distillers Products Ltd. (www.frank-lin.com/services.html) using a made-in-Germany Laudenberg (www.laudenberg.com) Model FBM-10 filler/sealer owned by Pocket Shot. It fills the pouches through the top at 20-25 pouches/min, according to Bachmann, though it is capable of filling up to 35 pouches/min.
To see a video of this equipment in operation, click here.

Bachmann is already looking into higher volumes in terms of a larger package size and faster rates, likely in a form/fill/seal format. There may also be mixed drinks in Pocket Shot pouches in the future, too, he adds.

A downside is that the product's portability also makes it easier to pilfer. But a silver lining is that drawback also got the products moved to desired positioning near the register.

Bachmann also acknowledges feeling heat from groups including Mothers Against Drunk Driving. "As far as we're concerned, Pocket Shot is really not any more threatening than any other alcoholic product," Bachmann responds. "Some industry people don't like it, but I think that will all change, because they're going to see more and more pouches in the alcohol business."
Sold only in liquor stores, Pocket Shot retails for around $1.79 each. "Once people see the product and feel it, they're sold on it," says Bachmann.




Companies in this article