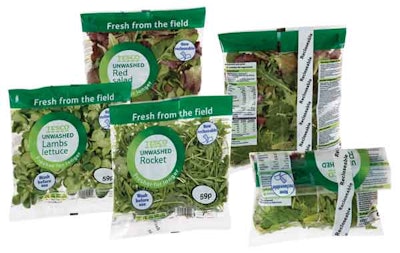 Introduced in February 2006, the 60-g bags of leafy greens feature patented, precut tape bands.
Supplied by Amcor Flexibles (www.amcor.com), the "TapeTop" anti-mist (for enhanced product visibility) pillow-type and stand-up-type bags are made of 35-micron oriented polypropylene, flexo-printed in seven colors at Amcor Flexibles' Ledbury facility. The peelable, laminated tape closures can be adhesively affixed anywhere on the bag and then lifted and transferred for multiple-use bag reclosing after the package is opened. Langmead uses hot melt adhesives from Henkel (www.henkel.com) to affix the bands to the bags. These tape bands also can be printed, pro-
viding promotional messages, coupons, and other marketing devices.
The TapeTop system can be retrofitted to existing form/fill/seal equipment. Langmead uses vertical f/f/s equipment supplied by CFS Netherlands (www.cfs.com). Amcor also can supply preformed TapeTop bags.
Companies in this article