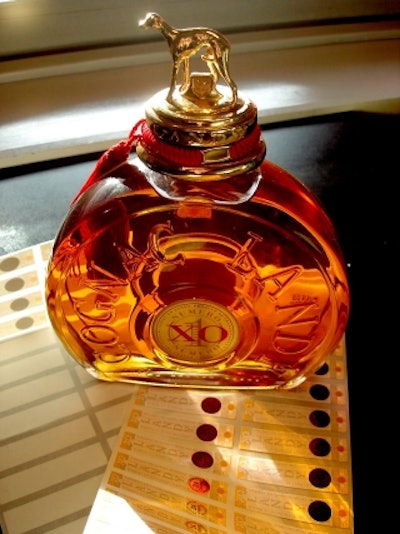 In order to protect its brand and its consumers, Cognac Ferrand, Charente, France, asked ArjoWiggins Security (www.security.arjowiggins.com) to secure its Landy Cognac bottles. Both companies worked together to develop a label that combines authentication and tamper-evident functions.
Each cognac bottle destined for the Asian market is delivered with this security label. Printed on an ultra-fragile substrate (Synthetic Tamper Evident Security, or STES), the label contains level 2 and level 3 security features (for more on this, see note at end) that can be authenticated by the Cognac Ferrandís inspectors using dedicated equipment.
Placed on the cap, any removal attempt delaminates the label's face stock. It is then impossible to remove the label from the substrate in one piece in order to reposition or reuse it.
Developed entirely by ArjoWiggins Security (graphic design and production), the labels are provided ready for application.
For comparison, Landy Cognac's Desir (shown) is also available at better retail stores throughout the United States where it retails for $39.99. This product was introduced in 2005.
The security features were added in just the last few weeks.
Security details
According to the ArjoWiggins Security Web site, STES, Synthetic Tamper Evident Security, is suitable for all applications requiring tamper evidence and 2nd level authentication. It is produced from a simultaneously biaxially oriented film of expanded high-density polyethylene. The finished sheet receives a security coating treatment (including with invisible security features). As a result, the substrate offers many advantages for most self-adhesive security label applications.
STES is ultradestructible by delamination, is water-grease-oil-chemicals-UV resistant, -/+60°-C temperature-resistance, and prints via most processes except laser. When converted into self-adhesive labels, it offers both authentication and tamper-evidence.
Authenticity verification is done using a UV light, without the need to open the package and destroy the label to control and authenticate the product.
Ed. Note: According to ArjoWiggins Security marketing director Herle Carn, security levels are as follows:
Level 1 = Visible security features.
Level 2 = Invisible security features that can be detected with available detectors such as special lenses, UV light, or chemical pens.
Level 3: Very secret invisible features that can only be detected with dedicated readers (aka, forensic level).

Companies in this article