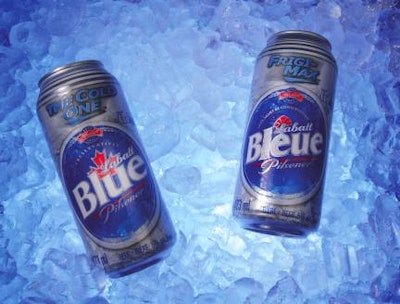 Earning a Diamond Award recognition along with gold was Labatt Blue Cold One from Labatt Breweries of Canada, Toronto, for a thermal sleeve label that keeps the 16-oz aluminum beer cans colder longer.
The DuPont Cool2Go(tm) wrap on Labatt Blue cans is made by placing a high-tech, polymer insulation between two layers of Melinex(r) polyester film from DuPont Teijin Films(tm). The insulation is a 30- to 40-mil layer of polyester fiberfill. The patented process produces a thin thermal barrier, making Labatt Blue Cold One cans more comfortable to hold while protecting the beer from heat transferred from warm hands, condensation, and outside temperature.
The Cool2Go material in roll form is applied to filled and seamed cans by [b]Alliance Labeling[n] (www.alliancelabeling.com ) before a gravure-printed protective shrink overwrap from Multi-Color Corp. is applied over the Cool2Go material.
The Cold One innovation debuted in May 2005 as a summertime test in two Canadian provinces and was repeated again in summer 2006 including in the United States.
"It was extremely well-received by consumers," says Elaine Stokes-Noble, Labatt's innovation manager.
It was available this summer in select markets for Labatt Blue and Labatt Blue Light throughout the United States, and for a specialty item distributed in Brazil for a number of months, according to Stokes-Noble. The latter resulted in an approximate 2.5% increase in market share, according to Labatt.
"The Cold One is a very successful initiative and we will continue to look at opportunities," says Stokes-Noble.
The DuPont Diamond Award also went to the Tetra Wedge Aseptic Clear 200 Slim container from Tetra Pak
For more information on this and other award winners, stay tuned for more coverage of the DuPont awards in the next issue of Packaging World.
Companies in this article