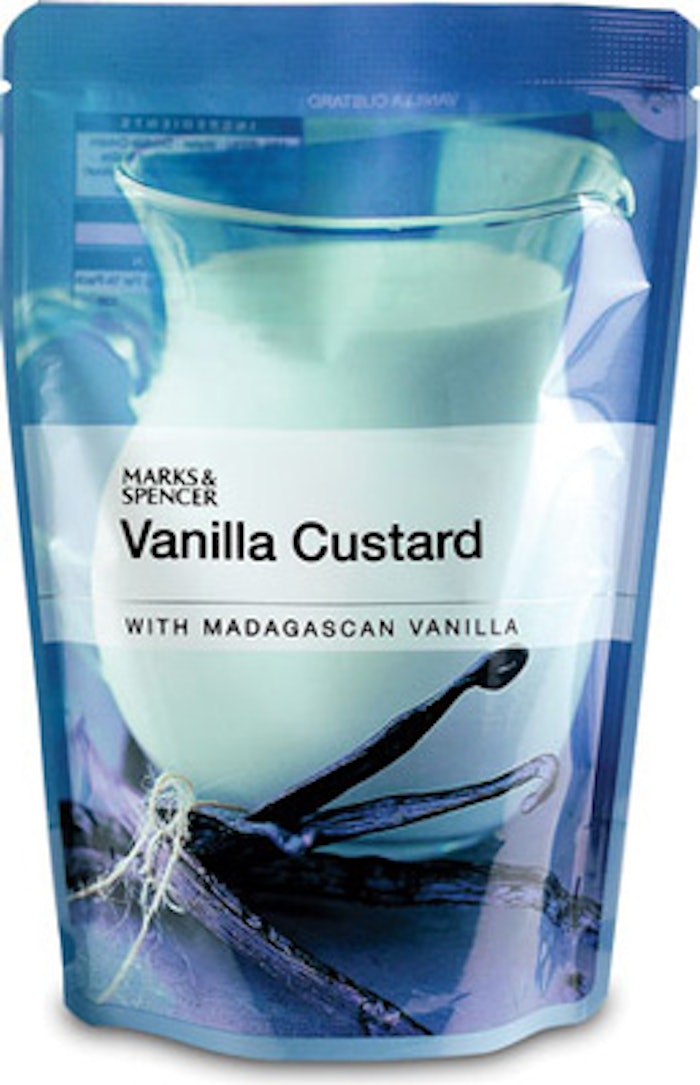 (www.clppackagingsolutions.com), stand-up, easy-open, easy-pour, pre-formed, preprinted pouches for UK-based food retailer Marks & Spencer's new line of retorted, shelf-stable sauces have earned an FPA Gold Award in the Printing Achievement category.
The laminated film, supplied by North Yorkshire-based JMP (www.jmpackaging.com), is a PET/HBPET/BONYL/CPP (polyethylene terephthalate/high-barrier polyethylene terepthalate/biaxially oriented nylon/cast polypropylene) structure about 100 microns thick. The absence of foil in the structure enables the product to be conveniently microwave-heated in the pouch.
CLP converts the pouches on Totani pouch-making machines. The cast polypropylene layer provides an even, uniformly opaque white background, which eliminates the need for a lay-down of thick white ink. The CPP layer improves the overall pouch appearance and also enhances pouch seal strength. The 8-color graphics are gravure-printed on the outer PET layer, accentuated by the bright white CPP background.
The Marks & Spencer sauces are co-packed by Baxter of Scotland, using fill/seal equipment manufactured by Toyo Jidoki. Fill/seal speeds for the 250-g pouches are 60 per minute.
Introduced during the Christmas 2005 holiday season, the pouched sauces are marketed in three seasonal varieties (turkey gravy, cranberries in ruby port sauce, and blueberry dessert sauce) and one year-round variety (vanilla custard). All four sauces have a nonrefrigerated shelf life of 12 months.
Consumers have responded well to the packaging's many convenience aspects, including lightness of weight, easy non-refrigerated storability, microwaveability, easy tear-open notch, easy pourability for full product evacuation, and easy disposability of flattened empty pouches. In addition, for the sauce processor/packager, the high surface-to-content ratio of the pouch allows a relatively short dwell time in the retort chamber versus jars or cans. This prevents overcooking of the sauces and enables protection of their quality and delicate flavors. —Judy Rice
Companies in this article