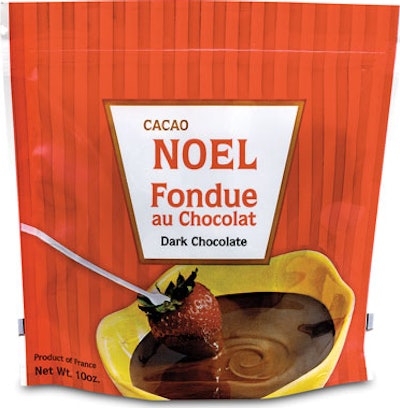 That's why he feels the company's test market launch last November of a resealable stand-up pouch for Cacao Noel Fondue au Chocolat dark chocolate fondue is so unique. What's more, the pouch—winner of a Gold Award for Packaging Excellence—can be microwaved or boiled in water, with the melted chocolate either served in the pouch or poured into a serving container.
Paris Gourmet manually fills premade pouches supplied and converted by LPS Industries LLC (www.lpsind.com). Nearly 5 mils thick, the structure includes an outer layer of polyester that's reverse-printed flexographically in six process colors. That structure is married to linear low-density polyethylene via solventless adhesive lamination. LPS laminates, prints, and makes the pouches, sourcing the two films from vendors it prefers not to identify. The pouch measures 7"W x 7"L with a 1½" bottom gusset. No new equipment was required for the job at LLC.
The structure's thickness is necessary because "it has to have some heft to it to stand up," notes Jack Cunneen, LPS vice president of sales. Separately, LPS extrudes LDPE to make the zipper, applying the zipper during the pouchmaking process.
From Cunneen's perspective, there's another unique aspect: "We did a run of 10ꯠ of them," he states. "Some companies would have to add a zero or two to that total to justify producing a zippered pouch with six-color graphics." The production of the fondue pouch presented LPS with an interesting challenge. On one hand, it shows that the converter can help a customer with a test-market-sized run. On the other hand, the company would prefer to accommodate larger runs.
Cunneen notes that for this application, the printing plate costs surpass those of the pouch project. Noel makes it clear that this is an investment in the future. "We have a long-range plan to introduce a line of fondue products under the Noel name. Fondue is especially popular in Europe, and chocolate is on an upswing. This is a brand new concept for us, and I don't believe there's anyone else doing anything like this," he says of the new fondue package.
For now, the importer-distributor of a variety of specialty foods sells one version of the pouch, a 10-oz dark chocolate fondue that retails for $4.50 to $5 at "specialty stores" in New York, New Jersey, and Pennsylvania, says Noel. "Our original idea," he recalls, "was to be able to put the pouch in hot water when you sit down for dinner so that the chocolate would be melted and ready to use when you were ready for dessert."
Noel wasn't certain how many times the pouch could be heated, saying that "we needed a pouch material that would be safe for food contact and able to withstand the heat of boiling or microwaving it." With a chuckle, he adds, "we think you should eat it all at once.
"We wanted an innovative, attractive package that was more upscale than a tub with a mass of chocolate in it," Noel explains. "We're pretty happy with how it's done so far. While we're filling them manually at this point, as soon as the quantities deserve it, we will make a decision about having them contract packaged or filled in-house." —Jim Butschli
Companies in this article