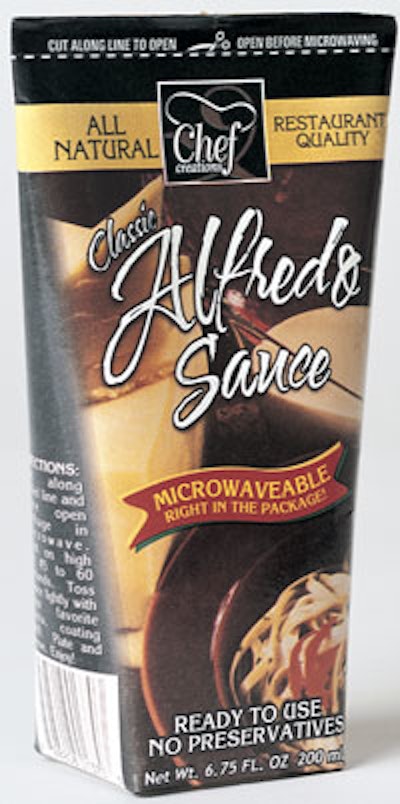 The introduction is said to be the first U.S. product to be packed in the world's only microwavable aseptic package.
According to Culinary Concepts' Hal Valdes, the new package is an outgrowth of a 1-L aseptic brick pack that has been available to foodservice customers for the past year. "We wanted to reach the retail market, but one liter of these sauces is way too much for in-home use," says Valdes. "We also wanted the package to be microwavable, which meant foil couldn't be included in the package structure."
The 6.75-oz packages of Alfredo and Hollandaise sell in select markets for $2.49, while Classic Brown costs $2.29. Stop N' Shop, Winn Dixie, and Kroger stores all carry them.
Filling is currently done on a TBA-19 filler in Tetra Pak's Denton, TX, facility while a contract manufacturer is sought. The key difference between conventional aseptic brick packs and this package is that foil, which would prevent microwavability, is not used as a barrier material. Instead, silicon oxide (SiOx) is applied to PET film to provide the gas barrier, and this substrate is included with the other layers of paper and polyethylene. The resulting structure provides a one-year shelf life.
In the kitchen, the consumer simply cuts the package open along the dotted line at the top and then microwaves and pours. —Pat Reynolds
Companies in this article