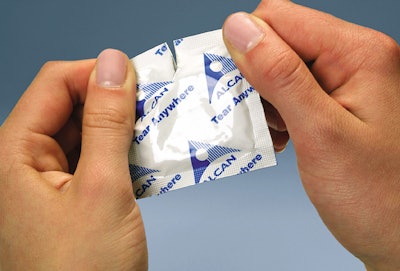 TA's tear properties and barrier characteristics stem from the extrusion process and the proprietary resin technology used during its production, according to Alcan. TA may be used as a laminating substrate, as a barrier film, and can be heat-sealed to itself or other polyethylene films. It can also be used with other packaging materials.
A typical lamination would be 100-ga TA/10# white LDPE-ethylene acrylic acid/aluminum foil/10# ionomer sealants. A film structure would include mLLDPE, HDPE, and various Tg (glass transistion temperature) materials that provide heat resistance, such as Cyclic Olefin Copolymers. A three-side-sealed pouch structure would comprise 100-ga TA/sealant layer/100-ga TA. It will seal to itself at temperatures of 240 degrees F or higher.
TA's tear properties are said to alleviate the need for tear notches, laser scoring, and tear-open features, making it especially suitable for use by seniors.
TA is not moisture-sensitive and does not become brittle over time, nor does it yellow with age. Alcan says that the addition of proprietary sealant technology allows customers to reduce sealing temperatures and dwell times, increasing line speed.
—Jim Butschli
Companies in this article