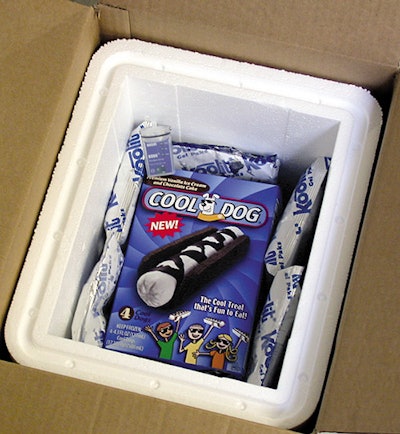 Founder Peter Franklin was having problems getting sample product intact to potential customers. The company needed to maintain the Cool Dog's temperature between -20º and 10º F. Ironically, the sponge cake and ice cream novelty was becoming too cold in shipment with dry ice, which often caused the sponge cake "bun" to shatter enroute. That left a bad impression with potential new customers. Franklin's solution was two-fold: a switch to cold packs, and the use of the HOBO® Pendant™ Logger that Onset Computer introduced in spring 2005.
The battery-powered, reusable device boasts low-cost, accurate recording by providing 0.5º C accuracy and up to 52ꯠ readings. The 2.3"x1.3"x0.9'' device, added to Franklin's insulated corrugated case shipments, is used with HOBOware™ 2.0 for Windows, an intuitive graphical analysis software program. The data from the HOBO logger uploads quickly to a PC via a USB port using a HOBO coupler. A quick test with a pair of the devices quickly convinced Frankin of its value for his product.
In fact, the tests proved so encouraging that Franklin plans to purchase "hundreds more" of the devices, he says. Recipients receive a preaddressed mailer to return the units to Franklin who can upload the data and reuse the device. Then Franklin can adjust his packaging for future, similar shipments if needed. "It worked great and we want to move forward quickly. The benefits to us are improved product quality and increased sales, since we can get better product to new customers—that's an enormous advantage," he tells Packaging World.
He also liked the visual alarm feature that shows if a preset temperature has been exceeded. "That's great for nontechnical people," he states, "the light is either on or off."
Franklin is brainstorming other uses for the device, including quantifying the insulating properties of the various films that he uses—metallized, printed, and unprinted.
"The HOBO device is cool, really fun to use, and the software is also surprisingly easy to use," says Franklin. —Rick Lingle
Companies in this article