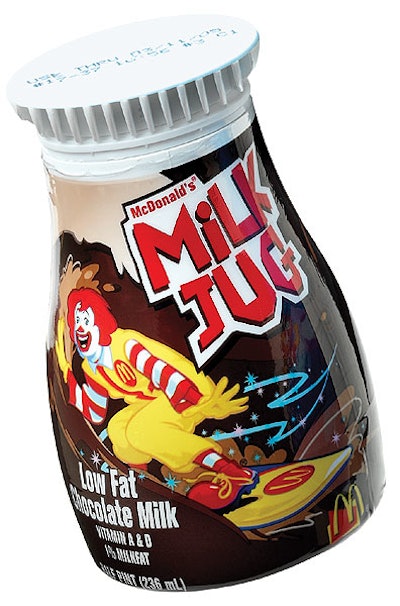 Big packaging changes continue in the single-serve milk category, particularly with McDonald's switch last summer to 8-oz high-density polyethylene bottles from paperboard gable-top cartons.
Last June, McDonald's celebrated the 25th anniversary of its Happy Meals by introducing Happy Meal Choices, aimed at offering more healthful meal choices. These included Apple Dippers apple slices as an option to fries (see packworld.com/go/c131), and white and chocolate milk as alternatives to carbonated soft drinks.
The 8-oz HDPE bottles for 1% low-fat white or chocolate milks replaced 8-oz gable-tops that the Oak Brook, IL-based restaurants had sold since 1981. The milk containers are available at more than 13귔 U.S. restaurants. They can be purchased separately or as part of the Happy Meal.
The change, says Lisa Frick, McDonald's director of U.S. menu management, "has improved customer satisfaction and increased sales. Since introducing the milk bottles, milk sales have more than doubled." On its Happy Meal Web site, McDonald's anticipates selling 208 million milk jugs annually.
Synergy also played a role. McDonald's decision to offer healthful choices came about at the same time that fast foods were receiving negative media attention for their alleged role in obesity in young people.
McDonald's introduction of the milk bottles followed limited market testing showing that boys did not like to drink out of straws, so a 38-mm widemouth, chug-a-lug bottle became the container of choice. McDonald's initially sought dairies that could fill the milks at ultra-high temperatures. Its paperboard cartons were ultra high-temperature-packed and yielded a shelf life of up to 30 to 60 days.
The firm determined that the investment in UHT equipment would be cost-prohibitive for dairies, so McDonald's opted for fresh milk with a 21-day shelf life with most dairies coding the bottle caps with a 15-day "use-thru" date. The exception was a Cumberland, NJ, dairy that had UHT equipment. Its packs are good for 35 days, though the packaging is said to be virtually the same as that of other dairies. Dairies may use either white or unpigmented bottles.
Working with packaging suppliers
Like its food products, McDonald's strives for consistent quality in packaging. That's one of the reasons the firm is loyal to its suppliers. And with its volumes, McDonald's suppliers understandably return that loyalty. Specific volumes were not available, but one of the nine dairies that supplies the chain, a National Dairy Holdings' plant in Rochester, MN, produces between 60 and 80 million bottles per year.
McDonald's switch to the bottles proved especially challenging since most of the dairies that had supplied milk in the gable-top cartons weren't equipped to fill the plastic bottles. To accommodate McDonald's switch, many of these dairy facilities were renovated or expanded.
"Our primary suppliers make the recommendation [for equipment]," explains Frick. "We work with our suppliers on a daily basis. We trust their experience and work in partnership with them to provide a quality product that our customers expect from brand McDonald's."
She adds, "We usually ask our suppliers to evaluate the decision for packaging based on our specifications. Because of our volumes, we typically require several suppliers and want to assure supply by having adequate contingency available."
One of the experienced resources McDonald's relied upon was John Allen, national accounts manager for Dallas-based National Dairy Holdings Co. (NDH). Allen says that the milk for McDonald's is produced at nine different dairies nationwide, four of which are NDH facilities. Dairies supply McDonald's distribution centers, which deliver to individual restaurants.
Allen was instrumental in making equipment selections for many of the dairies, even though some are competitive with each other. For this ongoing project, the dairies share the goal of satisfying McDonald's. Not every dairy uses identical packaging machinery or materials, but the dairies share many commonalities. That's especially the case with sleeve-label applicators and filler/cappers.
"We looked at different equipment," Allen says. "In a packaging line, it's a big decision to go from wraparound to full-body sleeve labels," he says. "Most of the dairies didn't fill smaller, single-serve plastic bottles. Even the few that did tended to use wraparound labels. We found the justification for going to a sleeve label was the ability to use more graphics, which in turn creates more appeal for the consumer." McDonald's test market showed that the bottles attracted attention at tables.
Also, the repackaging design is more appealing to kids because "it shows Ronald [McDonald] on a surfboard," says Frick.
Reliable equipment
One of the sleeve applicator vendors that Allen considered was Axon. "I always tell people working on these projects that the Axon equipment is one of those things that you can count on," he says. "Start-up time is less than a day, and it can produce more than we need. By comparison, other equipment was more expensive and didn't work as well." New Axon machines are now used at eight of the nine dairies, one machine per line.
Changeovers for labels used for the white and chocolate milks take only about 10 minutes, says Allen. "The change parts cost about half that of other sleevers. To complete a changeover, one film roll is removed from the arm of the sleever and replaced by the next roll." The Axon units apply colorful heat-shrunk, polyvinyl chloride labels from Seal-It. The 2-mil labels are printed gravure in 10 colors.
Eight dairies use rotary gravity filler-cappers from Federal Mfg., and five are new. Most of the Federal machines use 26 heads and produce 250 bottles/min. "Many of the dairies were already familiar with the Federal units, and their personnel were experienced with them," responds Allen when asked why Federal fillers were selected. Bottles are blow-molded by various suppliers, including CKS Packaging.
The 38-mm injection-molded polypropylene closures are from Portola Packaging. The closures provide tamper evidence, says Allen, in the form of a "drop band" that remains on the bottle when the bottle is opened. Two of the dairies are Dean Foods plants. They use Dean's patented Milk Chug bottles. Reportedly, Phoenix Closures supplies the caps used on the Milk Chug bottles.
Videojet was selected to provide ink-jet coding equipment for most of the dairies. Interestingly, McDonald's preferred that codes be printed onto the top of the closures. That makes it easy for consumers to read the use-thru date. A plant code, production time, and other manufacturing details are also printed in the two-line black code.
Downstream, at six of the nine dairies, are Spot-Pak® systems from Delkor Systems. Three of the six dairies purchased new systems for the McDonald's bottles. They use a corrugated tray or flat, onto which they apply spot adhesive on the paperboard where 24 bottles are placed. A two-layer unit of 48 bottles is then shrink-wrapped. "This process represents a growing trend in this business," says Allen.
He notes, "Dairy is moving more and more to plastic for smaller packs," and McDonald's is pushing that envelope. Although he says paper enjoys "about a 10-percent price advantage," the plastic milk bottle only weighs 15 g. The justification, Allen says, is McDonald's research showing that milk in plastic bottles is purchased at restaurants four times more frequently as was milk in paperboard gable-top cartons.
Customer satisfaction drives change
Customer satisfaction was at the root of McDonald's change to the single-serve plastic bottle. "We do what is right for our customers," says McDonald's Frick. "We are always listening to our customers," she says. "Based on customer feedback as well as consumer research, we decided to use bottles instead of cartons because [bottles] are easier for kids to hold, they're resealable, and they allow kids to drink the milk at their leisure versus [milk in] the carton, which needs to be consumed at one time."
To this point, the results of the decision to change to plastic single-serve bottles for milk has been easy for McDonald's to swallow.
Companies in this article