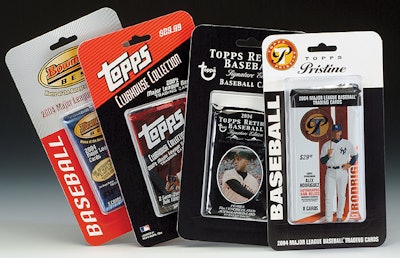 Some 50 years ago, baseball cards were just a group of printed paperboard cards that were an easy way to promote baseball and sell bubble gum. As the cards became established as collectibles, card marketers like Topps, New York City, have upped the ante significantly, both in the types of cards available and in their selling prices.
The result is that card marketers and the retailers that sell them want more secure packaging that can't be easily opened in a store (or for that matter anywhere) and the inside pack of cards removed. This past summer, Topps converted some of its valuable collector card lines to BlisterGuard® packaging from Colbert Packaging.
The BlisterGuard package for Topps uses 16-pt Everest® Safe-Pak bleached board from International Paper in a fold-over format that traps a plastic blister inside. The heat-sealable, tear-resistant Everest is laminated with a 3-mil, cross-linked high-density polyethylene film from Valeron Strength Films.
The Valeron film's layers are oriented and then crisscrossed to eliminate grain direction, according to Rich Witmer of Valeron. "The process assures superior resistance to tampering, pilfering, and tearing ," he says.
The Everest board is produced at IP's Texarkana, TX, mill, then shipped to an IP converting plant in Raleigh, NC, for laminating with Valeron. Plus, the inside surface of the board is extrusion coated for effective heat sealing.
The paperboard is then shipped to Colbert's Lake Forest, IL, plant for four-color process printing of the fold-over card from art supplied by Topps, followed by die cutting for the blister and a "coat hanger" for peg hanging. The cards are then sent to Colbert's Just Pack It plant in South Bend, IN, which performs the packaging using blisters from Brookdale Plastics. Blisters are thermoformed from virgin 15-mil polyvinyl chloride.
Price requires security
The new packaging replaces a clamshell blister that was sealed via radio frequency in the past. This packaging was expensive, and Topps felt it wasn't very esthetically pleasing. So the company set out to find an alternative that would be as secure, but more attractive. The new pack retains the same package footprint, so retailers don't need to change shelf sets.
"In this business, stealing trading cards is just like stealing cash," points out Bob Riley, a director at Topps. "A thief can take the cards to a show and sell them easily. No one asks where you got them or if you have a receipt. This is why security in our packaging is such a big issue."
Riley's search led him to Colbert and BlisterGuard. "We found that not only did the package meet our specifications, but that Colbert offered one-stop shopping as well," he says. "Colbert's ability to handle package printing, converting, assembling and filling and sealing the package and shipping to our distributors and retailers would make the effort much easier for us."
However, just as Riley compares the cards to cash, Topps insists that Colbert employ a high-security tracking system at South Bend. "Everything has to be held in locked cages with limited access," says Glenn Grosskopf, vice president of product development at Colbert. "And we have to account for all the card packets they send us. If we have extras, they're returned to Topps. The numbers must match because there's no tolerance for losses." The four lines using BlisterGuard are Topps Clubhouse, Topps Pristine Baseball, Topps Retired Signature Edition, and Bowman's Best Baseball, all produced and overwrapped to Topps specifications.
Machine for heat-sealing
Colbert's Just Pack It plant has been operating under that name for about a year. It's where the company has done some special custom packaging for some larger customers.
Like most contract packagers designed for custom packaging, much of the work is done by hand. To the inside of the cards plant personnel apply Sensormatic sensors from ADT or Checkpoint sensors from Checkpoint. These sensors work with retailer anti-theft systems. During production, a packet of cards is loaded facedown into the blister, which is then inserted into the die cut in the card. This unit is then placed onto slide rails that feed the sealer. The back of the card is folded over, and a mirror below the rails offers visual confirmation of blister placement accuracy.
This unit is inserted into four-up tooling on a sealing machine that seals via heat or can use radio frequency. Once the coating is activated by heat to bond the card to itself, the packaging is completed. Twelve of the blister packs are then loaded into a display box with a Topps checklist placed on top. For trackability, the boxes are stamped with time, date, and a machine code. Four boxes are then loaded into a master shipper, which in turn is marked by the name of the card series, time, and date. Then the cases are loaded onto skids, according to Topps' orders.
Lots of pack security tests
Key to the change was both testing of the package security and the approval of the package by Topps' retailer customers, such as Target and Kmart.
"We had to qualify Colbert as a manufacturer, and we evaluated the tests that Colbert and Valeron had conducted," says Riley. "Then we had Colbert produce some sample packs for our sales reps, who showed them to our trade customers to see if the package was acceptable. We had to prove to them how tough the packs are to open, so pilferers couldn't open these packages in a store to steal the packs of cards inside. We wouldn't have made the switch without the retailers' support."
Ironically, he says, these packs are anything but consumer friendly. "Some card buyers are really anxious to see the cards they just bought when they leave the store," Riley adds. "But without a knife or scissors, they can't get into the package. We'd love to offer more convenience, but for now, we can't couple both convenience and security."
As Topps' marketing director, Peter Sawkins, explains, cards aren't just printed paperboard any more. "The high-end brands contain one autographed card per pack as well as other cards," he says. "We needed to be sure the package isn't tampered with and the cards aren't pilfered. We also wanted our package to help sell the product. This package works well on both counts."
Riley adds that, along with autographed cards, Topps also offers "relic" cards that contain pieces of game-worn memorabilia, like a piece of a ballplayer's uniform. Some of these relic cards are also autographed to add even more value. Packs retail for up to $100. The collector card market today is young adults, Riley says, rather than the younger kids who were the original market for bubble-gum card packs in the past.
More economical solution
Along with providing excellent security and more shelf appeal, Topps says that BlisterGuard is less costly than the previous clamshell pack. Although Riley declines to identify Topps' savings with this pack, he does say "we expect to be using this package for additional lines in the future. All the feedback we've received from customers on this pack has been positive."
From Colbert's perspective, the advantage of BlisterGuard is that it doesn't require any specialized converting or packaging equipment, says Grosskopf. "So it doesn't require a major investment," he says, "and that means it's not just a package for high-priced products."
Colbert's turnkey approach was especially important to Topps' Riley. "There are a lot of companies that make and print blister cards, lots of companies that make blisters, and other companies that can handle assembly and packaging. I just don't have the time or energy to manage different vendors and inventory. Plus, we didn't want too much handling of these valuable cards."
Companies in this article