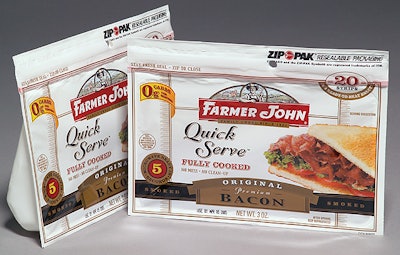 Recloseable zippers are from Zip-Pak. Bags are produced inline (along with zipper application) using Tiromat horizontal form/fill/gas flush/seal equipment made by Convenience Food Systems.
The bag's semi-rigid bottom web structure is PVC laminated to Curwood's EZ Peel® ionomer; the polyester top film is laminated to white ionomer. Refrigerated shelf-life of the modified atmosphere-packed, quick-serve bacon is 90 days.
The bag's ionomer EZ Peel opening technology positioned just below the hermetic seal enables easy opening of the package without a knife or scissors. Consumers can remove the desired amount of precooked bacon for heating, then simply press the zipper to reclose the bag, keeping remaining product fresh for later use.
For Farmer John, the fact that the bags are formed inline from rollstock provides cost savings over preformed bags. Bags also require no secondary packaging, eliminating that potential expense.
The stand-alone primary packaging offers a large printing area on the top web for high-color graphics that create a "billboard" effect, increasing shelf visibility. Retailers reap a shelf space-saving advantage because the contoured packages can be displayed either as stand-up bags or as pegboard-hanging bags.
Ray Wilkerson, director of brand management at Farmer John, says, "Our precooked bacon business has been growing as a result of the new packaging, and we are achieving increased customer distribution."
Companies in this article