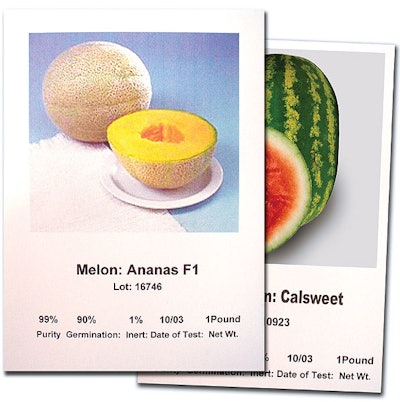 An agricultural seed packager has shifted to metallized flexible-film pouches and in-house-printed color labels to meet the needs of customers in 45 countries around the world.
Previously, Hollar Seeds of Rocky Ford, CO, had packed as much as half of its seeds into steel cans, decorated with labels printed by a label converter. Beginning with its fall 2003 pack season, Hollar began to print its labels in-house, on a VP2020 digital thermal ink-jet color label printer from VIP Color Technologies. The printer was purchased through Label House, the company that also supplies paper labels for the printer.
About a year before it added the printer, Hollar Seeds began to convert from steel cans to flexible, barrier pouches. These are provided by Obex Packaging, a converter that also functions as a packaging broker.
For many of Obex's packets, the construction is a 48-ga polyester/48-ga metallized polyester/5-mil linear low-density polyethylene that's supplied often as a bottom-gusseted, stand-up pouch, says Steve Patin, president of Obex. Most of the pouches and packets, he says, are produced offshore. The pouches are typically printed gravure in three colors, he adds.
"The seed business is a pretty good chunk of all my packaging sales," Patin says. "That's where my company is best known, both domestically and internationally." Patin grew up in the seed business, so he understands the importance of keeping moisture away from the seeds. Other packets use aluminum foil or even a barrier plastic layer, especially for flower seed producers that require even greater barrier properties.
When asked about shelf life, Hollar hesitated. "Seed can be stored up to five years—under the right conditions," he pointed out. "Unfortunately, the distributors and end users don't always store these packages properly." Still, he adds that the flexible pouches are much lighter to ship than steel cans.
Replacing preprinted labels
"With this printer, we have a lot more flexibility, and we can meet unusual requirements from our customers," says Andy Hollar, chief financial officer. "In the past, we were applying as many as four separate labels on our containers to meet the demands, especially from our overseas customers. And each had to be custom printed by an outside vendor. Now, we're putting all that custom information on our photo label. So it saves us not only in the cost of labels, but also with the labor it takes to apply them by hand."
Hollar specializes in the production of cucurbit seeds for vegetables like cantaloupe, watermelon, squash, cucumbers, and pumpkins. "We sell mostly to agricultural distributors that supply seeds and other products directly to growers and farmers," Hollar says. The company packages seeds into packets from 10 g up to 16 oz, and into other containers up to 5-gal buckets. The labels are primarily used on Hollar's packets, although sometimes they are used on buckets, too.
Because Hollar ships its products around the world, it was vital that a color photo of the grown variety be on the label. That's especially true for those areas of the world where the farmers don't understand English copy and use the photo as a guide.
Syria was the catalyst
"We had always dreamed of being able to produce our own custom color labels for our packaging," Hollar says. "But we had no pressing need to change from preprinted labels until a good customer in the Middle East announced stricter labeling requirements. That's when we began searching for a color printing solution flexible enough to meet all our labeling needs."
The government of Syria wanted all the basic information that Hollar provides, but it demanded it in a specific format. "It required a single label—and we were unable to get the photo and all the required information on a single label," Hollar recalls. "Our previous printer was unable to do that. Our only other alternative was to write off our customers in Syria."
Most customers and countries require much of the same information, although sometimes it must be translated. Each label not only has to identify the seeds, but it must include specific tracking numbers, like weight, lot number, and germination test dates, Hollar points out.
"Outsourcing to a print house with short runs of custom color labels for each country was simply not a feasible option," he adds. "With so many shipping destinations each requiring varied information, as well as changing requirements year to year, our print jobs were simply turned down by commercial label converters." Instead, the company would mass produce generic color photo labels and store them. This left room for employees to add the custom information by hand, sometimes using secondary labels to meet all the requirements.
No printed label inventory
The principal advantage to adding the color printer was eliminating the large quantities of preprinted labels Hollar Seeds needed. "With this printer, I can make as many, or as few, labels as I need," Hollar says. "It also allows us to add photos to some low-volume products that we couldn't justify images on before. Plus, with the preprinted labels, the photos didn't always depict the actual varieties as we can now."
To do that Hollar purchased a digital camera to take the photos for its labels. "We have display gardens here where we grow a little bit of just about everything we sell," Hollar says. "Customers can come in to look at our varieties. But we also use the products from our gardens as the subjects for our digital images. So with the camera and the printer, we can have exact photos on every label if we want to."
The printer's software lets Hollar download the images and format the labels. The printer, powered by Hewlett-Packard ink-jet technology, uses four easy-to-change ink cartridges. Each holds about a pint of ink, so they typically last a couple of months, Hollar says. "They're real simple to pop in and out and the printer gives you a warning when a cartridge is getting low. We always keep spares around because when we're packing we don't want any downtime."
Hollar's is a seasonal business. In the spring, Hollar contracts with seed growers to produce the seeds. In summer, it inspects crops to ensure proper isolation and growing techniques. The seed begins to arrive in the fall, Hollar says, and the customers want their seed immediately. When ready to package, he says the plant will print 3ꯠ to 5ꯠ labels/day during the packaging season, and all labels are hand-applied. Most packaging is completed by January, although some orders do come in later.
The seasonality of Hollar's seed packaging business has the company looking for label-printing business during the rest of the year. "I told our former label supplier that I planned to go into competition with his company," Hollar chuckles. "We did do some labels for a coffee roaster nearby. What's really great about this printer is its ability to do short runs for smaller accounts. If I could find enough label business during the off-season, I'd probably buy another printer, just to have a standby."
Companies in this article