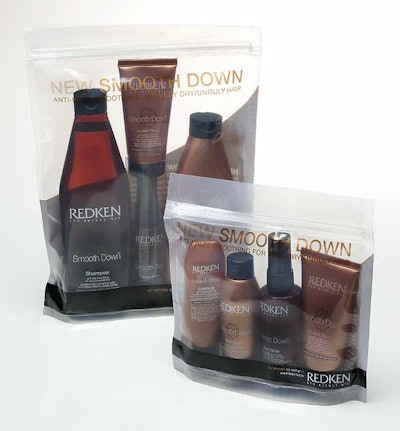 The 8-mil polyester/low-density polyethylene film structure provides substantial support for the primary packages that stand inside. The pouch is also equipped with a press-to-close zipper from LPS Industries.
"We switched from a PVC folding carton to a pouch because we felt it was the most cost-effective way to introduce a new product to the consumer and professional markets with consistency. We felt that this was the best option for the project," says Sabrina Parmett, project manager for the Smooth Down product line. "We have other projects in the works that will be prepacked in pouches as well."
Reverse-printed in three colors by RJR Packaging, the pouch is designed with a stand-up bottom gusset that aids in marketing and storage of the product. The pouch is available in two different sizes, one to accommodate the larger, standard-sized bottles, the other for mini, travel-sized products. Each pouch contains four different packaged products.
Pouch design was carried out by the Redken Design Group in cooperation with SF&A. The durable pouches are designed not only for marketing purposes, but also for reuse. Designers hope that consumers will store hair accessories, travel kits, cosmetics, etc., in the pouch after they've removed the Redken products. The clean, crisp, and contemporary graphic design were achieved through color matching of the pouch inks, supplied by Flint Ink to the rigid containers in the pouch.
Because of the heavy film gauge, the pouches are easier to handle and support during the manual filling.
Redken's Smooth Down large and mini multipacks are available at salons nationwide.
Companies in this article