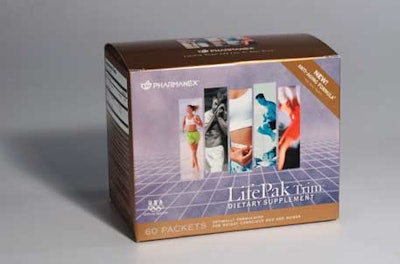 To reintroduce its LifePak dietary supplements in the Far East, Pharmanex sought an improved package structure that would provide ample moisture barrier, exceptional sealing characteristics, easy opening, and good machinability—all at a reasonable price. Provo, UT-based Pharmanex, a division of Nu Skin Enterprises, met those considerable challenges by working closely with its film supplier Rollprint Packaging Products.
Each LifePak packet (or sachet) contains four to six capsules or tablets of vitamins, minerals, antioxidants, and phytonutrients for general nutrition. The LifePak family of products includes seven different varieties to meet the needs of men and women at varied stages in their lives.
LifePak supplements are sold in printed paperboard folding cartons that contain either 30 packets for a 15-day supply or 60 packets for a 30-day supply. The 18-pt SBS cartons are supplied by Utah Paperbox. The tuck-top/auto-bottom cartons are offset-printed in four colors plus metallic blue, with an aqueous coating. Cartons are overwrapped in ExxonMobil Chemical's Bicor™ 220 AB sealable oriented polypropylene film.
LifePak supplements are sold in more than 30 countries, but they're packaged by two contract manufacturing firms in the United States. The structure for the LifePak packets shipped to the Far East was customized to withstand the more demanding heat and humidity of that region. According to Pharmanex, a differerent pack structure is used for LifePak sold in other areas around the globe. This story focuses on the Far East version.
The companies invested 18 months of developmental work to create what Rollprint calls NutraSeal™. The 2"x3" sachet is made of 48-ga polyester/vacuum-deposited aluminum-oxide coating/0.75-mil metallocene. Its 1.25-mil thickness is half that of a previous structure.
"Each sachet contains multiple layers of material," explains Luiz Cerqueira, senior vice president, global operations and manufacturing for Pharmanex. "Our concept was to identify and clearly understand the ideal attributes of each layer, then advance to a second phase to select the best combination of materials to generate the ultimate in product protection."
Benefits are transparent
One of the first steps in developing the structure for LifePak involved the decision to select a transparent material. "A transparent package allows us to manually make our critical visual inspections to help ensure the right number of tablets or capsules per sachet," says Cerqueira. He anticipates automating that process in the near future with a machine vision system.
Cerqueira says, "Rollprint presented us with its ClearFoil® options using an aluminum-oxide composition that gave us the first indication that everything we were searching for would be possible and that we would be able to provide the protection we needed."
Rollprint's custom, unprinted rollstock is printed in-line with a lot code by the two contract manufacturers. The aluminum-oxide-coated polyester layer helps the structure achieve a moisture vapor transmission rate of 0.08 g/100"2/24 hr. But due to the unprotected aluminum-oxide coating's propensity for damage, Rollprint says it refined its manufacturing process so that the aluminum-oxide coating could withstand the thermal shock and other stresses of the coextrusion-coating process.
A thin, uniform coating helps the structure meet the demands of the high-speed (416/min) tablet-packaging machinery used at both contract manufacturing locations. Tablets and capsules are automatically fed to vertical form/fill/seal equipment, says Cerqueira, who prefers not to describe either process or to identify machinery vendors, citing competitive reasons. He says automated feeding of the tablets and capsules is vital to the process but declines to describe it. No new equipment was necessary for the material change, "just adjustments and enhancements to find the right balance between production speed and [material] waste," he says.
During packaging, some air remains in the package, "to help cushion the product from damage through filling and distribution," says Cerqueira. "It's a little extra product protection without requiring us to enlarge our cartons or shipping cases."
The equipment required the material to have a high coefficient of friction to prevent the tablets or capsules from clinging to the packaging materials during loading. That said, a slight cling was important to prevent tablets from possibly moving into the seal area.
The material provides strong heat seals, yet still allows consumers to gain easy access to the product by tearing across either one of the sachet's two opposing serrated seals. "Sometimes when you develop a film with good moisture barrier and seal characteristics, it's not easy to tear, but this package is easy to tear open," says Cerqueira.
Good feedback
Pharmanex performed a variety of quality and performance tests during the development process for the structure. That evaluation continued through the first six months of commercial production to assure package consistency. "Our packaging meets regulatory requirements," Cerqueira explains. "And we made sure that every component of the film was [rated for] food and pharmaceutical [applications]." Since its launch, he says, the supplement sachet has been received positively by Southeast Asian customers.
"When you have a project of this nature, it is key that there are excellent communication and coordination between the team members every step of the way," says Cerqueira. "In my opinion, it was the relationship we had built with Rollprint that enabled us to be successful with this project. They've been a critical partner in the process," says Cerqueira.
He adds, "Costs were an important consideration. There were several combinations of materials that could have produced results similar to these, but would have cost us much more. That's why it took exhaustive testing to ensure we had the best film. It was one of the aspects that Rollprint was instrumental in, allowing us to reintroduce the product without a significant price impact."
Companies in this article