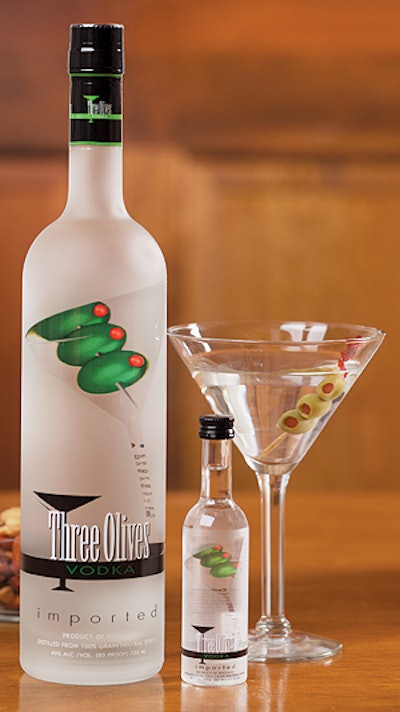 Label graphics are designed to mimic the previous frosted-glass versions (left side of photo). SleeveCo gravure-prints the full-body shrink-sleeve labels in eight colors, using 2-mil clear polyvinyl chloride film from Bonset America.
Sleeve labels are applied to the 50-mL glass bottles by White Rock on two new EZ-100-series label applicators from Axon. Heat tunnels shrink the sleeve labels onto glass bottles sourced through distributor Saxco.
Before shifting to labels, White Rock's 50-mL bottles were manufactured and frosted overseas. "The bottles were decorated in France, so they had to be shipped to us for filling, which was expensive," explains Scott Coulombe, plant manager.
"The change to sleeve labels was driven by cost, and we were expanding into many new flavors, so we would have had to inventory many different decorated bottles. If we could get the same look as the frosted-glass bottles, maybe even better, with labels, we wouldn't have to inventory all that glass. That change alone was incredible for us." Specific savings figures were not revealed.
Coulombe explains that he was impressed with sleeve-labeled bottle samples he saw at SleeveCo's booth at a Pack Expo show in Chicago. That led to choosing SleeveCo as the label converter. The labels are finished with a matte frosted varnish except where White Rock wanted design elements or copy to stand out. On its Three Olives bottle (shown), no varnish is applied to the product name, black martini glass, or to a black bar with the word "vodka" that encircles the bottle. The same is true for the larger clear martini glass "window" that lets consumers see through the glass and vodka to three olives on a toothpick printed on the label's back panel. For different vodka flavors, back-panel graphics include other illustrations such as raspberries or vanilla beans, which can be seen through the clear cocktail glass. Coulombe says that SleeveCo labels are also used on 200-, 700-, and 750-mL bottles, some of PVC, others of PETG.
Companies in this article