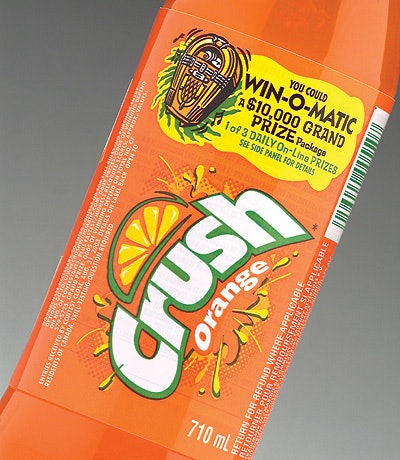 Between May 19 and August 31, consumers can win prizes at the Mississauga, Ontario company's www.crushwinomatic.com Web site.
To win a CD jukebox, bikes, lamps, or scooters, consumers purchase a specially labeled 600-mL, 710-mL (in six-packs), or 2-L PET bottles of Orange Crush, Cream Soda, Grape or Lime Crush.
"The gateway to fun is clearly the label," says Cadbury marketing manager Peter Nicov. "The label provides on-the-shelf presence for the contest. One of every eight labels is marked as an instant winner that consumers can redeem for a free 600-mL bottle of Crush. Finally, each label includes a unique Personal Identification Number, which consumers use to access three Crush on-line games to win daily prizes, download a coupon, or refer friends to the contest site. Each PIN entry automatically enters consumers into the grand-prize drawing."
The labels were flexo-printed in six colors by Sonoco. That's done at its Winnipeg, Manitoba, Canada flexible packaging plant. Flexo printing is done on the outside of the 1.7-mil polypropylene-based label, while ink-jet coding is used on the inside surface with the instant win information, PIN codes, and contest rules. Label copy is printed in English and French on both sides.
Companies in this article