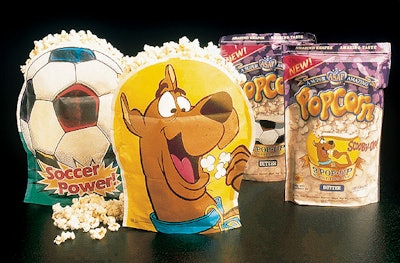 The outer pouch delivers stunning graphics while also providing a resealable zipper that allows access to three shaped 3-oz microwave popcorn bags that are also printed. Like the outer pouch, the three inner pouches are also designed with bottom gussets that allow them to stand up, even when a consumer reaches into the bag for a handful of the snacks.
A Super Amazing Popcorn is sold in 15 varieties, according to Jennifer Deutsch, vice president of marketing. Being "the first microwave popcorn in a stand-up pouch was important to us for a multitude of reasons," she says. "It has greater shelf presence than a traditional box of microwave popcorn. And we learned in consumer testing that they liked the resealable feature. There was also a perceived shelf life advantage with using a zipper. Boxes take up more space, and the visuals we deliver with a pouch are very distinctive."
In March, Warner Bros. Consumer Products awarded ASAP the licensing rights to use the likenesses of several popular cartoon characters, including Looney Tunes, Scooby-Doo, and the Cartoon Network's The Powerpuff Girls. Those characters, or soccer balls, basketballs, or pumpkins, are also used as graphics for inner and outer bags. A new bag design is planned to coincide with the November release of Warner Bros. Pictures' film, "Looney Tunes: Back in Action."
Deutsch says the outer bag is printed gravure using six colors. However, she said the company considered structural details on the bags proprietary, not wishing to divulge suppliers for competitive reasons. Deutsch did say the three-layer inner bag was patent-pending. The unusual oven mitt-shaped (ASAP calls it round) gusseted inside bag includes a new susceptor pattern sandwiched between newly designed paper and sealant coating layers, believed to be developed by LM Packaging. The top of the inner bag includes two pull tabs that allow easy opening.
Compared to overwrapped bags or folding cartons, Deutsch admits, "we had to make a slightly larger investment in packaging materials." She believes the consumer advantages and competitive differentiation provided by the inner and outer bags justify the investment. With a shelf life of at least a year, the 9-oz (255-g) three-pack of popcorn retails between $2.59 and $2.79. Products are believed to be filled at a contract packager's plant near Minneapolis, using new equipment that's considered proprietary.
"It's done very well for us," says Deutsch of the 100% natural popcorn that uses sunflower oil. "It's gained great retailer acceptance. We've gone national with several key retailers, including what I would call an alternative channel that's not traditional for microwave popcorn, and that's with Limited Too, a 'tween'-focused girls clothing store." It's also sold at grocery and supermarket chains, and at Walgreens outlets.
Companies in this article