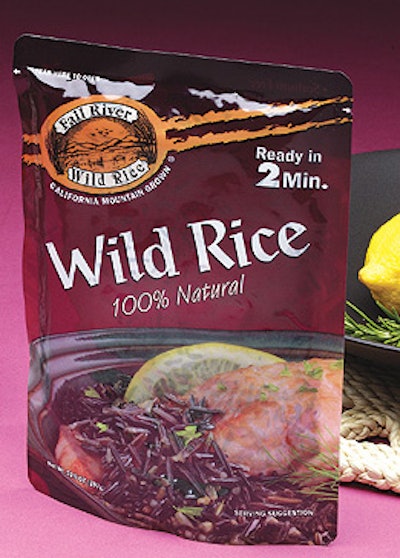 Fall River wild rice, Fall River Mills, CA, takes all of the guesswork—and nearly all of the time—out of properly preparing wild rice. That's through an aluminum-foil-free pouch structure that withstands the stresses of retort conditions. Removing foil adds microwavability.
The premade pouches are supplied by CLP Industries Ltd., Israel, which has a U.S. division of CLP Packaging Solutions. The pouch film is 48-ga PET/48-ga PET copolymer with a silicon oxide ("glass") coating/60-ga biaxially oriented nylon/2.4-mil cast polypropylene. The outer PET is reverse gravure printed in eight colors. The 8''x6''x3'' 10.5-oz pouch has a tear notch on both edges along the top; a razor-thin, laser-scored mark on front and back panels ensures that the pouch tears neatly straight across the top. The laser scoring is through the outer layer of the lamination only—the barrier layer remains intact. Debuting in April, the product shelf life is 18 months.
The products are contract packaged and retorted by Shoei Foods USA.
Falls River wild rice is ready to eat or can be heated. A 10.5-oz pouch containing two cups of wild rice takes only two minutes to reheat. The pouch can be opened and reheated in a microwave oven for two minutes or an unopened pouch can be placed in boiling water for two minutes.
For comparison, consumers preparing one cup of uncooked wild rice must rinse and cook it for 45 to 60 min. And the amount of water used must be perfect to make it good, adds Hiram Oilar, Fall River general manager.
The pouch represents a package change for Falls River from retorted pillow packs to the stand-up pouches.
"Much of our product is merchandised flat on the shelf, so we weren't getting the product presentation we needed," says Oilar. "We considered marketing a retorted foil pouch in a carton, but we felt the costs would be prohibitive."
The company basically eliminated the carton and the foil in its search, and came away with a microwavable stand-up pouch that could withstand retort conditions.
Fall River had experience with stand-up pouches in a 1-lb pack of dried wild rice. "We changed from a pillow pack to a stand-up gusseted pouch, and our sales increased dramatically," says Oilar. "This size was selected in order to develop a retail price point, $3.99, that would promote sales."
The marketing of a precooked product has been well received. "We've experienced some very good support from retailers," says Oilar. "Consumers are thanking us for this change—they have written us that they 'finally' have a ready-to-eat wild rice. This precooked format makes the product a lot more accessible to people."
From prunes to rice
This project is Shoei's first step in utilizing excess retorting capacity, according to Shoei district sales manager Mike Manassero. Known as an integrated contract packager of prunes that it grows, processes, and packs, Shoei Foods USA is a subsidiary of Japan-based Shoei Foods Corp., Inc. Shoei represents a change in contract packagers that Falls River made about 18 months ago for its precooked rice products. Shoei does a "fantastic job," enthuses Oilar.
Shoei receives the premade pouches in 4귀-count cases shipped from Israel. For this project, Shoei installed a modified, rebuilt pouch machine imported from Japan. The eight-station, rotary turret machine picks and places the pouches from the stacked magazine infeed into grippers. The grippers control the pouches through two-stage filling: first the volumetric filling of dry rice, second by water at about a 2:1 ratio. Sealing is also done in two stages: heat sealing followed by cooling of the seal area. Packaging is done at a rate of 20 pouches/min, according to Shoei production supervisor Kurt Crawford. The pouches are then ready for retorting.
Fall River is set to have Shoei cook up additional retorted products in stand-up pouches.
"We're excited about the potential of this product," says Oilar. "We're working on product development with famous chefs to have five more pouched, retorted items available by early 2004."
Companies in this article