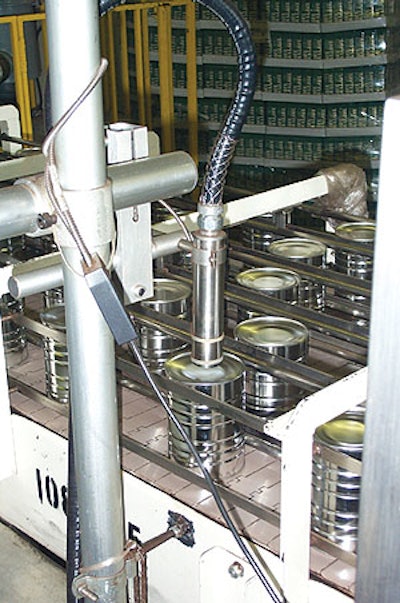 Specialty coffee roaster F. Gaviña & Sons of Vernon, CA, has an ambitious goal: to expand from its base in the West and compete with nationally recognized brands such as Millstone that are making their mark at retail from coast to coast.
Any hope of achieving such a lofty goal hinges on maximum operating efficiency. Toward that end, the firm recently made significant investments in several key areas:
• ink-jet date coding and secondary packaging for 1-lb cans
• filling equipment for 10- and 12-oz pouches
• case-erecting equipment for a 3-lb bag sold to the Costco chain of club stores.
The 1-lb cans are filled on a line whose depalletizer, filling equipment, seamer, and roll-fed labeler are all reconditioned equipment that has been in and running for some years. Added to it about a year ago was a Videojet ink-jet coder that marks the lid of each can with a production date code. It replaced an older and less efficient model.
"This new coder is simple and reliable," says plant manager Leo Fandino. "With the old one we had, we spent too much time servicing it."
Secondary packaging of cans has been upgraded, too. Previously, it consisted of a tray packer that, according to Fandino, wasn't up to par. "It lacked sufficient speed, and it would do only trays," says Fandino. "Also, changing from a 6-count to a 12-count tray took too long."
Installed about a year ago as a replacement was a Model 127SL case/tray packer from S.V. Dice. Its rated speed is 35 cases or trays/min, though currently Gaviña typically runs in the range of 25/min.
Servos provide versatility
"It's the most versatile servo-driven machine for the money that we could find," says Fandino. "It lets us do trays or RSCs or wraparound cases. We didn't purchase the optional gear for wraparound cases because right now we don't need it. But retailers are a little unpredictable these days about what secondary packaging format they want, so it's nice to know we can make the switch into a wraparound quickly if we need to."
Regardless of whether cases or trays are being produced, the S.V. Dice machine operates in much the same way. First, an infeed lane divider sends the incoming cans into four lanes. When the proper number of 1-lb cans, either six or twelve, is in the collating station, a push plate strokes across at a right angle. This pushes the cans onto a case or tray blank that has been vacuum-picked from a magazine. After delivering the cans onto the blank, the loader plate strokes back for another load. This reverse stroke is at an elevated level so that incoming cans don't have to wait before filing into the collating station. Nordson glue guns, S.V. Dice flap folder bars, and compression stations take care of closing and sealing the case or tray flaps.
Three Indramat servo motors from Bosch Rexroth's Electric Drives and Controls Div. help move cans through the S.V. Dice machine. One governs the infeed lane divider, another drives the flighted chain on which cans move through the system, and the third powers the push plate that moves cans from the collating station onto the case blank. An Allen-Bradley SLC/504 PLC from Rockwell Automation is the brains behind the system. Operators access the PLC via an Allen-Bradley PanelView 600 touchscreen panel. Changeover from 6- to 12-pack or from case to tray takes about 15 minutes thanks to the drop-down menu on the PanelView screen. Toolless changeover features are incorporated into the machine.
Servo motors also contribute to gentle handling of the cans. "Remember, it's an intermittent-motion machine," says Fandino. "To keep from slamming the cans around and damaging them, you have to be able to accelerate and decelerate smoothly, and servo motors are especially good at that."
New shrink wrapper
Immediately downstream from the S.V. Dice system is a shrink wrapper, supplied by Packaging Machines Intl., that replaces an older system.
"One thing we really like about this shrink wrapper is that it has a side-loading film station," says Fandino. "Shrink film rolls are loaded at waist level instead of from overhead, which is much better ergonomically." Another ergonomic improvement is that trays are now conveyed from the packer to the shrink wrapper. It used to be done by hand. Cases, of course, simply bypass the shrink wrapper. Both cases and trays are palletized by hand.
A few feet away from the revamped can line is a recently installed case erector from SWF Companies that represents another significant improvement. Corrugated display cases formed on this machine are manually filled with special 3-lb bags of whole-bean coffee that is sold through the Costco chain of club stores. Before the case erector was installed, the corrugated cases were erected by hand. "It's a big improvement," says Fandino.
The same could be said of Gaviña's new 240ꯠ sq' plant and warehouse, which sits a few blocks away from the buildings that currently house all of the equipment discussed above. Soon all operations will be housed in the new facility, and in fact some of the newest packaging machines purchased by Gaviña went straight to the new plant. Among them was a Model GL-14 vertical form/fill/seal machine from Fres-Co. In production since January of this year, the new machine is dedicated to whole-bean coffee in one package size. Net weight of the product inside is either 10-oz or 12-oz, depending on the density of the coffee beans.
Fandino says investment in the new Fres-Co system was driven partly by marketing concerns and partly by the need for greater capacity. Capable of about 40 packages/min, "It's about 40 percent faster than the GL-20 that we used to use for this bag size," says Fandino. "Also, the GL-20 produced a vacuum brick. This machine has a nitrogen back-flush system, so the bag is nice and smooth. With the vacuum brick, the surface of the finished pack had a pebbly quality to it."
Also nice and smooth is the back side of the pouches produced on the GL-14. "This machine crimps three corners of each pouch and creates a heat seal on the fourth, so there's no fin seal on the back of the package to disrupt the graphics," says Fandino.
Weighing comes first
In operation, the GL-14 looks more like a packaging line than a single packaging machine. Mounted above the f/f/s system are two GL-110 load cell bulk-and-dribble scales, also from Fres-Co. One weighs while the other discharges the coffee it has weighed.
Roll-fed film, supplied by Fres-Co, is produced in a single pass. It's a four-layer adhesive lamination of 48-ga polyester/28-ga foil/48-ga polyester/3-mil linear low-density polyethylene. The top layer of polyester is reverse-printed on a gravure press in eight colors. Also gravure-printed near the end of the converting process is a lay-down of an easy-open coating on the portion of the material that eventually becomes the top flap of a finished bag. This coating makes it easy for the consumer to peel open a bag without having to use scissors.
The film is pulled over dancer bars and then to a heat-seal station where a Fres-Co one-way degassing valve is applied. The valve permits discharge of gas naturally given off by the freshly roasted coffee beans, but it doesn't allow oxygen to enter. Copy on the back of the bag touts the advantages of the "flavor-tight" package.
Forming and filling begins as the material moves up and over a square-shaped forming collar and into specialized tools that produce what Fres-Co calls the Corner Seal™ package. In three of the four corners, the tooling need only produce a crimp. But in the fourth corner, two separate film edges are brought together and heat sealed.
"Marrying the two edges perfectly so that neither one overlaps is so difficult as to be impractical," says Fres-Co's Chris Burger. "So we bring the edges together and heat-seal them without worrying about perfect alignment, and then in a subsequent station we trim that corner to ensure a perfectly smooth fourth corner."
Shortly after the four corners are made, heat seal jaws close on the film to tack-seal the top of a filled bag and firmly heat seal the bottom of the next bag to be filled. A blade cuts the filled bag loose, and it drops into a horizontal indexing system leading to the remaining stations that make up the GL-14. The sealing jaws open, more film is pulled over the forming collar, coffee is discharged from one of the overhead scales, and the f/f/s cycle repeats.
Nitrogen is flushed not only into the bulk-and-dribble scales but also into the hopper that feeds the two scales. An overpressure of nitrogen is also maintained in the horizontal indexing system up to the point where the final top seal is made. Consequently, minimal residual oxygen is in the bag prior to the time that the heat seal jaws produce the final top seal.
Shortly after the top seal station, the bag pauses in several stations, including:
• cut-off of the material above the top seal
• tin-tie application via hot melt
• heat crimp so the top of the bag will fold readily
• folding of bag top over tin tie
• folding over of tin tie at each end
• final fold down of the package top and application of clear adhesive tape that holds the top down
• discharge onto a conveyor leading to a manual tray-packing operation.
Automating the secondary packing operation is one of Fandino's next priorities. "We'd like to go from a tray plus wrap to a case, either RSC or wraparound," says Fandino.
But that's a story for another day.
Companies in this article
Videos from Nordson Corporation