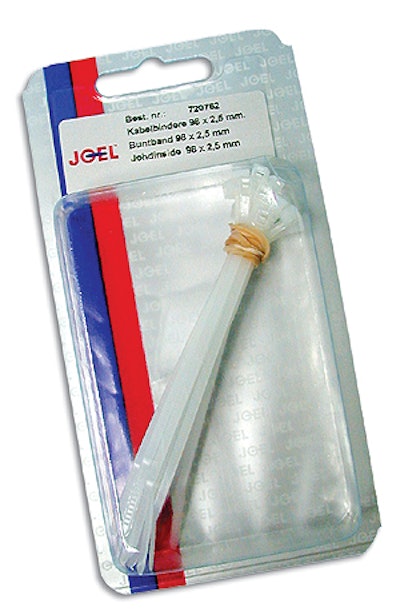 "But that's all changed. The days of frustrating experiences with carded hardware packages are over for consumers. The new containers allow better visual inspection of our products, are easier to open, and more durable."
The two-piece thermoformed containers he speaks of are made on a new horizontal thermoform/fill/seal packaging system from Multivac (Kansas City, MO). The R 330 machine was added last May by Jo-El, makers of plastic electrical components.
Jo-El uses 600-micron (23.6-mil) APET film on the machine for the forming web. The backing web is believed to be 3-mil flexible polyester, both reportedly from Amcor Flexibles Europe (Gloucester, England). Before the Multivac machine seals the backing web to the APET, an automated loading system from a local vendor fills hardware components into the cavities of the forming web.
Before using thermoformed packaging, Jo-El skin-packed these components or put them in plastic bags. Vestergaard points out that the company's previous blister-sealing equipment "was too expensive and out of date. The packages were less attractive and difficult to open." A peelable sealant layer makes opening the thermoformed pack easier than it was for consumers to separate the former blister from its paperboard backing card. After discovering appealing thermoforms used for foods in supermarkets, Vestergaard contacted Multivac.
One machine with one person has replaced three blister-sealing units that each required two to three people. That increases efficiency and productivity, and it hastened return on investment. Payback is forecast at 2½ years, meeting the company's expectations.
"The new packaging has most probably led to increased sales as it improves the standard of the products and differentiates them," says Vestergaard.
"The positive response to this change has been overwhelming," he notes. "The packaging makes it easy for the customer to choose the right product and there is satisfaction among both the customers and end users." —JB
Companies in this article