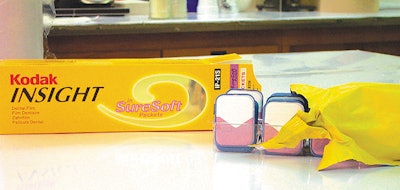 Among the many film products made by Eastman Kodak Co. are dental film "packets" used for tooth x-rays. These consist basically of x-ray film and other key components sandwiched between two pieces of vinyl. Once these layers are joined together in large sheets, individual packets are die-cut, packed, and shipped.
Because the die-cut edges can cause discomfort in the patient's mouth, product development specialists at Rochester, NY-based Kodak designed a softer, gentler packet, one with a soft vinyl cushion added to the perimeter of the packet after the die-cutting process. Launched this past summer, the new product is called SureSoft packets.
Working closely with the product developers was Michael Marou of Kodak's Package Engineering & Graphic Design group. It quickly became clear, says Marou, that "Our standard approach to packaging wasn't going to work with the SureSoft packet line."
The "standard approach" to which Marou refers consists of bundling 150 packets in a polyester band and then flow wrapping them in a film/foil lamination before sending them through a cartoner. This approach was discarded for the SureSoft packet line to prevent any damage to the soft edges of these new packets by the PET band.
What Marou and colleagues came up with as an alternative is a PET tray in place of the PET band. Thermoformed of recycled PET by Placon (Madison, WI), the tray has eight compartments that are filled by hand, 10 packets per cavity. Trays then proceed through a flow wrapper from Fuji Formost (Woodinville, WA) and a cartoner from Bivans (Los Angeles, CA), both of which have been in use at Kodak for some time.
Clarity and rigidity
PET was selected, says Marou, because it provides a rigid tray and its clarity denotes cleanliness that is appropriate in a dental office. "The clear tray also makes it easy for health professionals to see color coding used to indicate film speed," says Marou.
The flow wrap material that goes around the PET tray is the same foil/film lamination used for all of Kodak's dental film. But the folding carton for the SureSoft packet line is quite special.
"We know that some ninety percent of the hygienists out there are women, and they are likely the ones purchasing the dental film for the office," says Marou. "So we wanted to appeal to that demographic and to convey a fundamental quality of softness that, after all, is what this product is all about. The selection of fonts and the swoosh graphic element are all designed toward that end."
Kodak produces the 16-pt SBS tray in its own in-house converting operation. The carton is printed offset in four colors and is given a foil hot stamp in a second pass.
Marou readily acknowledges that the new product/package combination costs more than the more conventional approach, which remains in use at Kodak. But the idea is to provide dentists with a value-added product that will please patients, who, after all, are customers. And because happier customers are more likely to remain loyal customers, it's not hard for dentists to see the value in SureSoft packets.
So why not convert all dental film manufacturing to the SureSoft format? Largely because, SureSoft packets are still quite new. If they prove to be a runaway hit, anything could happen, says Marou.
Companies in this article