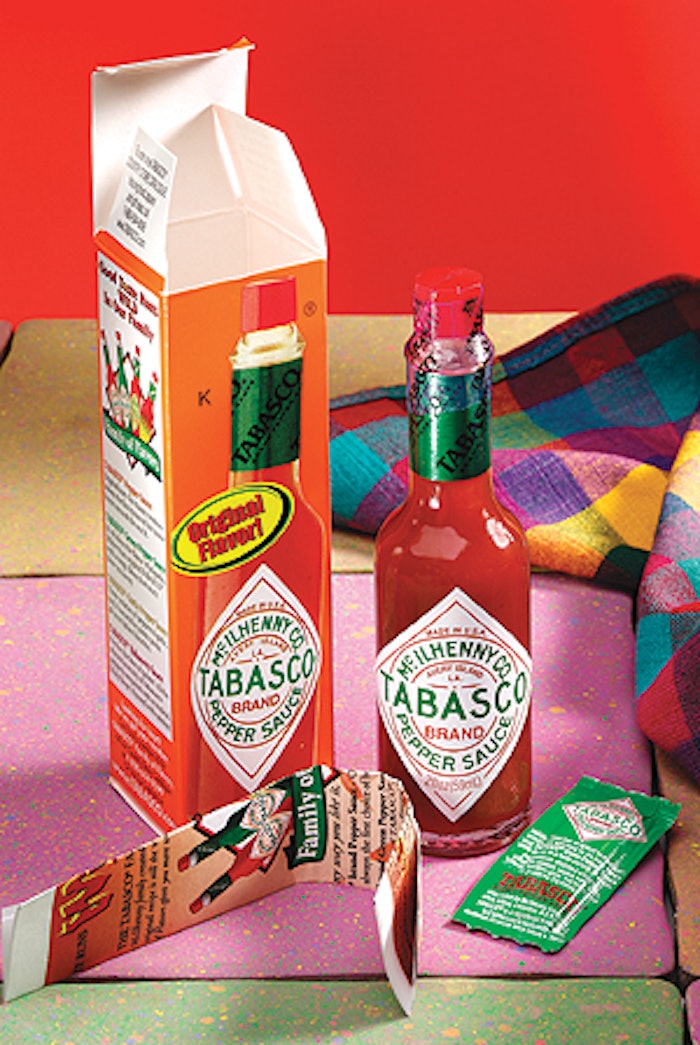 That's how purchasing manager Ricky Venable at McIlhenny Co. describes his firm's experience with sample pouches dispensed into outer folding cartons by an automatic pouch inserter from Unique Solutions (Lake Zurich, IL). Avery Island, LA-based McIlhenny began renting one of the machines about a year ago. It now owns one and rents a second.
The pouch being inserted is a small foil laminate structure holding about ¼ teaspoon of one of McIlhenny's sauces. The pouch is inserted into a folding carton along with an information sheet and a glass bottle holding 2 oz of any sauce other than the one in the pouch.
The challenge is in inserting the little pouch into a small carton opening that's partly obstructed by the bottle and the information sheet—all at 350 cartons/min.
"Unique Solutions was about the only machine supplier willing to give it a shot," says Venable. The pouches are fed into the high-speed inserter bandolier style. Using a system of belts and rollers, the machine tears individual pouches along a perforation and propels them into a waiting carton just before the top flaps are tucked closed. —PR
Companies in this article