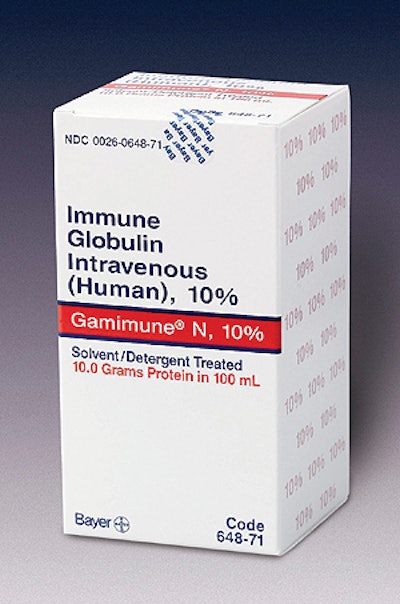 In September, Bayer rolled out packages of its Gamimune N 10%, Immune Globulin Intravenous (Human), 10%, with new printed seal tabs over the tuck flaps of its folding cartons, the first of an initiative that will eventually spread to its other biological products. The packaging revision is designed to help healthcare professionals and patients detect if a package has been compromised.
The new pressure-sensitive film pieces are manually applied to folding cartons in this first phase, says Kristen Barr, a spokeswoman for Bayer. The new seals have the Bayer logo randomly printed diagonally across the seal, supplied by a company Bayer declines to identify. Earlier, the company added a flip-top covering over the exposed part of the stopper that seals the vial. Each vial is visually inspected by highly trained operators, Barr says.
Despite these precautions, the company uncovered a tampering incident with Gamimune N earlier this spring. "The enhanced tamper-resistant packaging program we have instituted with Gamimune N 10% is an example of our ongoing commitment to enhance product safety for our patients," says Dr. Gunnar Riemann, president of Bayer BP division.
Bayer has also begun a comprehensive program to alert patients and healthcare professionals about what to look for in package security. These include Web conferencing, patient organization meetings, one-on-one meetings with "treaters" of the products, and marketing research, Barr added. More use of seal tabs and possibly shrink packaging will be used for the division's other products in the future. —AO
Companies in this article