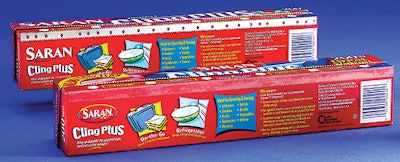 Johnson of Racine, WI, have revamped all cartons for their Saran-brand Cling Plus product. The cartons now have a "finger friendlier" PET cutter bar.
"Considering that most calls to our plastic wrap consumer response center are complaints about the unforgiving nature of the metal cutter bar, we saw this as a true consumer benefit," says S.C. Johnson packaging engineer Kris Gerulski.
Why switch to a plastic cutter bar on low-density polyethylene Cling Plus but not on S.C. Johnson's Saran Original, which is polyvinylidene chloride? Because, says brand manager Karen Kalman, the LDPE has so much cling it's harder to dispense, cut, and handle than PVdC. Therefore, it needed an improved cutter bar, and that's what the plastic bar is. It has more teeth per inch than a metal blade and they're patterned in a way that makes for a better cut.
Carton converter Rock-Tenn (Norcross, GA) applies the new bar to S.C. Johnson's packages pretty much the same way that it used to apply the steel bar. Like its steel counterpart, the PET piece is supplied in rollstock form on a release liner. Equipment supplied by Carton Edge (Coventry, England) pulls the material from a roll, removes the PET cutter bar from its release liner, and rolls it onto the paperboard carton.
At S.C. Johnson's Bay City, MI, plant where Cling Plus is produced and packaged, virtually no machine alterations were required when the plastic cutter bar was introduced, says Gerulski. He also indicates that the revamped carton costs about the same as the one it replaced.
As for consumers, says Kalman, they've made it clear that they like the new feature a lot.
Companies in this article