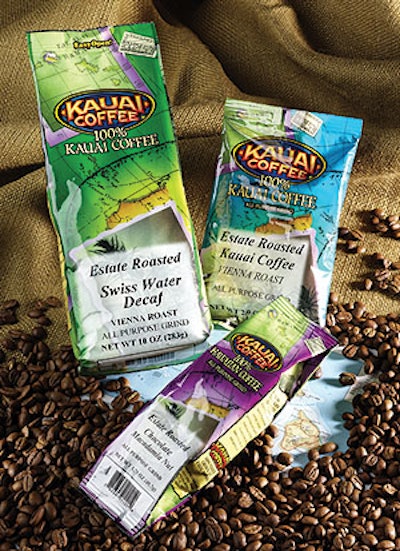 More than 95% of the coffee beans grown by Kauai Coffee Co. on the Hawaiian islands are sold unroasted to commercial roasters around the world who market coffee under their own brands. But the firm also offers its own brand of coffee packaged for distribution in Hawaii only. To get this part of its business launched, the firm relied originally on a "toll roaster" in the mainland United States, who roasted the beans and packaged both whole-bean and ground coffee for shipment back to Hawaii so it could be sold there under the Kauai Coffee brand.
Seeing how quickly its brand became popular both in foodservice and retail distribution, the firm moved to bring roasting and packaging in-house. "We wanted to reduce costs and improve quality by gaining better control over the product we were packaging," says Kauai president Frank Kiger.
This was effectively accomplished last December with the installation of a Series 1500 vertical form/fill/seal machine from Universal Packaging (Houston, TX). Installed in the firm's Eleele plant on Kauai island last December, the machine packs whole bean or ground coffee in four sizes: .7, 1.75, 2, and 10 oz. A 20-oz package is in development, says Kiger.
Change parts on the Universal Packaging machine permit it to produce either pillow packs or gusseted flat-bottom bags. The machine also applies a one-way degassing mechanism to every bag. That means a rigid plastic valve on the 10-oz bags, while the smaller bags take Vent Tape from Pechiney Plastic Packaging (Chicago, IL).
Mounted above the Universal Packaging vf/f/s machine is an auger filler from All-Fill (Exton, PA). Also integrated into the machine is a Smart Date 2i-100 thermal-transfer printer from Markem (Keene, NH). "It lets us inventory the same film for multiple products, regardless of flavor and regardless of whether the coffee is ground or whole bean," says Kiger. This variable information, in addition to a bar code and UPC, is printed on a front-panel box on each package.
Bag sizes
The .7-oz bag that Kauai packages is popular for sales to hotels, which put it in their guest rooms. Kauai first fills the .7-oz portions into filter paper on the Universal Packaging machine before filling filter paper packs into printed outer film. A typical run is in the range of 1ꯠ units. When the run is complete, the filter paper is removed from the vf/f/s machine's roll stand and is replaced with a colorful lamination. Also changed is the forming collar, and moved into position is a flighted indexing conveyor that inclines up toward the top of the vf/f/s machine. Operators manually load filter-packed coffee packs onto this conveyor, which drops them one at a time down the feed tube of the vf/f/s machine and into the colorful film lamination.
A photocell detects the presence or absence of a filter pack, and if a pack does not drop down the feed tube, no outer pouch is formed. This prevents a coffeeless bag from reaching a hotel room guest.
These "bag-in-bag" packs are produced at about 25 bags/min. The outer film material, supplied by RJR Packaging (Winston-Salem, NC), is a three-layer structure consisting of 48-ga polyester, reverse gravure-printed in eight colors, adhesive-laminated to a metallized polyester. A sealant layer of linear low-density polyethylene is adhesive-laminated to the metallized polyester layer in a second pass.
The same three-layer lamination is used for the 2-oz pillow packs, which, like the 2-oz gusseted bags, are essentially samples.
Both the 2-oz gusseted bag and the 10-oz flat-bottom bag are made from RJR-supplied laminated structures that are similar to the structure described above except that they substitute foil for metallized polyester. These two package formats require longer shelf life because they move through different distribution channels. The use of foil ensures a one-year shelf life.
Easy-open version
One last note on the film structure used for the 10-oz flat-bottom bags: The LLDPE sealant layer is what RJR calls an "easy-open" formulation that permits consumers to peel the bag open.
Because the market in Hawaii is relatively small, Kauai Coffee wasn't overly concerned with prodigious output as vf/f/s machines were evaluated. But with four different bag sizes in the mix, versatility was critical. The firm can change from one bag size to another in "less than two hours," says Kiger. In time, he adds, he hopes to shave that down a little closer to the one-hour changeover time that Universal Packaging claims the machine is capable of.
Kiger says changeovers typically occur once or twice per eight-hour shift. Helping to make changeovers quicker is the vf/f/s machine's memory system, which maintains the timing, seal temperatures, dwell times, and fill volumes for as many as 50 different setups. A touchscreen prompts the operator through machine setups and provides production data on request.
Kauai's experience with vf/f/s equipment and flat-bottom bags has led the firm to take a new approach to the way in which it packs its specialty food-grade sugar, known as "turbinado." Commonly found in restaurants in single-serve brown paper packages labeled "sugar in the raw," this sugar is also sold by Kauai Coffee through retail channels. But it's always been packaged in a PET jar. Soon the jar will be replaced by a flat-bottom bag, says Kiger, produced on a packaging system similar to the one used for coffee.
Companies in this article