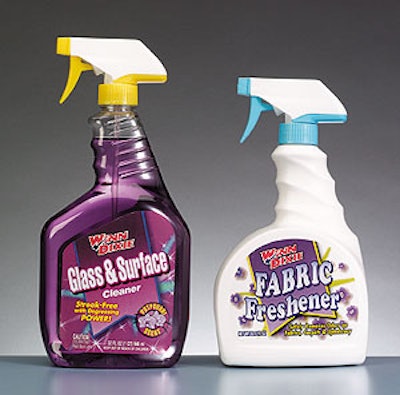 The scope of Winn-Dixie Stores' ongoing graphics revamping is amazing: the redesign of more than 3ꯠ different packages across 60 private-label brands.
The Jacksonville, FL-based supermarket chain is unifying its vast stable of private-label brands by bringing them together in-house under the Winn-Dixie banner (see https://www.packworld.com/go/c034).
"This is not just a large-scale redesign project, it is the launching of a new Winn-Dixie brand," explains John Opasinski, the company's director of corporate brand marketing. "The new contemporary design, the strength of the store name on the package, the prominent satisfaction guarantee, and the internal and external marketing campaigns will increase sales, profitability, and consumer recognition and loyalty. It's not your typical redesign."
Equally impressive, this mega redesign is handled by one company, the Package Design Center (Dallas, TX) of Southern Graphics Systems, an Alcoa business. PDC's Design-To-Print™ concept, originated by president Dale Smith, takes the process from concept through prepress. At that point, PDC provides the artwork—in the form of digital files or color separations—to the particular converter. PDC's operations include six full-time designers and the expected state-of-the-art tools such as computers, printers, and scanners. Recent additions include fully loaded Macintosh G4 computers calibrated for color consistency. However, the key difference is Design-To-Print, which simplifies Winn-Dixie's redesign effort by integrating many of the steps including design, photography, comprehensives/mock-ups, and prepress and preparation of materials for the converter.
"Speed to market is critical with a project of this size," Opasinski emphasizes. "Working with PDC translates to reduced development costs and better design development. Doing those things faster means improved sales, profits, and image."
Winn-Dixie managers gave the project the go-ahead in mid-2001, and by January the first of the newly designed packages began to appear on store shelves. Among them were new bags of Winn-Dixie brand chips (see sidebar on p. 45).
"We have an aggressive calendar for all of the redesigned products," says Opasinski. "It's quite an undertaking—there are several redesigns in the queue all the time." He estimates an average of a three-month turnaround per redesign.
"We prioritized the packaging rollout based on marketing needs," says Opasinski. "We want to be able to promote and market products as they become redesigned. The faster we can roll out the new design, the faster we can get behind the product line. Other factors are also considered, including new product lines, seasonality, promotional activity, supplier capability, upcoming product or packaging changes, and so on."
Winn-Dixie expects to complete the project in about 30 months' time, or around mid-2004.
The packages encompass a number of packaging containers and substrates, from metallized films for snack bags to PET bottles for spray cleaners to metal cans for fragrances to paperboard cartons for frozen novelties. Winn-Dixie uses dozens of copackers and their respective material and equipment suppliers.
"There are hundreds of packaging suppliers involved in this," notes Opasinski. "We're only at the early stages of the redesign, yet it has already involved film to paper labels to corrugated to juice cartons to ice cream containers to you-name-it."
As part of Winn-Dixie's Real Deal proactive branding positioning strategy announced in Sept. '01, the redesign complements a series of year-long marketing and operational changes including new store layouts and retrofits at more than half of the company's 1걶 stores in 14 states. Opasinski believes the timing is perfect as it complements other Real Deal initiatives.
"Our packaging design wasn't modern and contemporary; it reflected an older style of packaging that was appropriate in its day," explains Opasinski. "However, packaging has come a long way in just the past decade, and people have become more sensitive and aware of it. We sought designs that were as up-to-date and as hip as possible.
"Corporate brands have never achieved such an important position in the retail environment as they have today," continues Opasinski. "For Wall Street, corporate brand performance is one factor in evaluating company performance. For shareholders, corporate brands drive sales and profitability. For employees, corporate brands are a rallying point for company pride.
"For customers, corporate brands help define Winn-Dixie's position and identity in the marketplace. Our goal is to provide them with a high-quality, national brand equivalent—product and packaging—across all categories in the store."
That relates to what Opasinski calls one of the project's largest challenges: establishing a Best in Class design.
"We look not only at our current package, but also at the national brand target and the best of other retailers' work across the country, across all channels and a broad array of categories," explains Opasinski. "After understanding product and packaging innovations from across the country, we create our own look. Consumer loyalty is an important component to building a strong corporate retail brand. If we are successful and consumers try and like the product, it will build store and brand loyalty.
"We're all excited, and personally I think this is terrific," enthuses Opasinski. "If all the packages turn out as well as the first wave of packages that we've seen, we're in great shape! Employees have given us good feedback, and consumers are buying more of the products, which is the ultimate test. The upside is limitless right now."
See sidebar to this article: A chipper category
Companies in this article