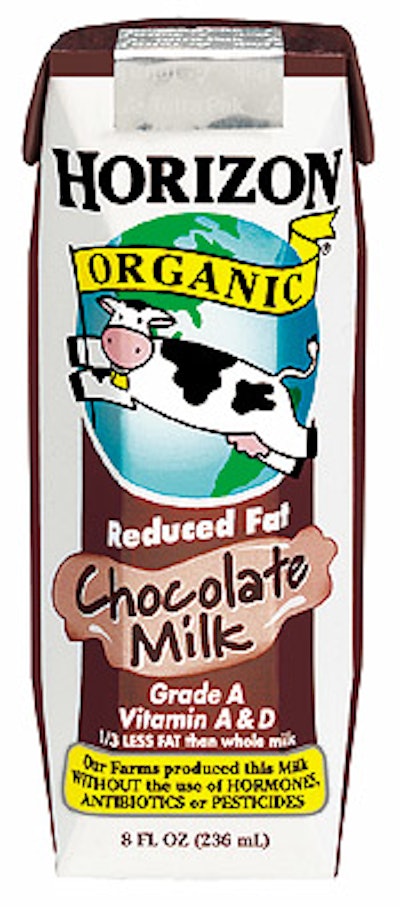 Horizon Organic Reduced Fat Milk is sold in four 8-oz varieties as a single pack, and in two three-pack versions. Though the milks are shelf stable, they're sold through the refrigerated chain. The seven-month shelf life allows retailers to sell the milks in the refrigerated dairy case or in the beverage aisle.
Presently, Tetra Pak is converting the material at one of its European plants. The 0.43-mm structure, from the inside-out, includes polyethylene/adhesive/aluminum foil/adhesive/paper/metallized oriented polypropylene. The OPP is flexo-printed in five colors, and the structure is creased to achieve its octagonal shape. Rollstock is shipped to co-packer Steuben Foods (Elma, NY), where the milks are filled on a roll-fed Tetra Pak TBA/19 machine at speeds of 125 packs/min. A telescoping straw wrapped in clear plastic film is glued to the pack.
"The continued market growth for both organic milk and single-serve milk was the catalyst for this product launch," according to Chuck Marcy, Horizon Organic's CEO. "Having worked with Tetra Pak, we knew they would offer us an innovative package and a professional partnership for a successful product launch."
The milk packs will roll out at conventional grocery stores by July, says Laura Coblentz, Horizon's director of marketing. Currently, the milks are sold at natural foods retailers, and Starbucks stores nationwide. Single packs sell for 99¢, three-packs for $2.89.
"The initial retailer response to Horizon Organic has been extremely positive," notes Coblentz. Consumers are receptive, too, she says. "From comments we received from the test market, we knew we had a huge success ready for national rollout." —JB
Companies in this article