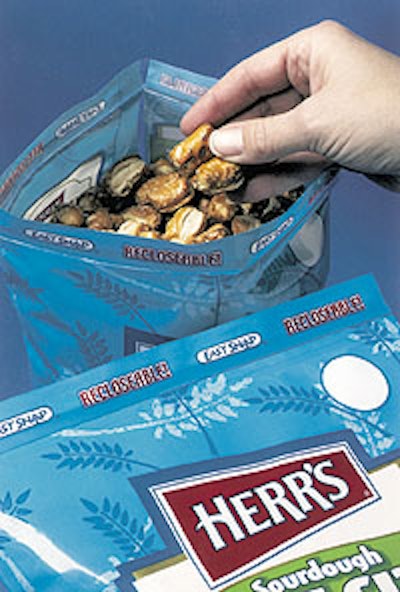 Two 22-oz varieties, Bite Size and Thin, were scheduled to be launched in the recloseable pack in the Northeast by late April, according to Daryl Thomas, vice president of marketing for Nottingham, PA-based Herr Foods Inc. "This is the first reclosable bag for a Herr's product," he says. "Our initial consumer research about reclosability was very encouraging, and we're anxious to see how consumers react to it."
Touted as an alternative to zipper- and slider-style closures, Easy Snap is co-marketed in North America by SIG Doboy, Inc.-Easy Snap Division (New Richmond, WI) and Presto Products Company's Fresh-Lock Zipper Business Unit (Appleton, WI). Presto is a business of Alcoa Consumer Products.
At Snaxpo, the suppliers demonstrated an ESV 2000 In-Line Recloseable Packaging System, a machine equipped with two separate unwinds, one for the printed film, the other for SIG Doboy's EasyForm™ unprinted material. During bagmaking, the EasyForm recloseable material is heat-sealed to the inside layer of the package's film. Herr's purchased an ESV 2000 and will pair it with an Ultima® vertical form/fill/seal machine from Hayssen (Duncan, SC). Herr's bought a rebuilt machine to work in-line with the ESV 2000 to produce the pretzel packs with the new recloseable feature.
"We worked with our production and engineering groups to make sure we could provide a recloseable feature that would open and snap back together more easily than traditional zippers," says Thomas. "And we did it in a cost-efficient manner that allows us to run without slowing down the line too much." Graphics on the front of the Herr's bag show two hands opening the bag, using a pinching and pulling motion. To close the bag, the consumer simply presses the Easy Snap seam together.
Introduced at Pack Expo 2000, the patented Easy Snap includes a rigid closure feature that gives a distinctive "snap" feel and sound to assure the consumer the package is properly closed. —JB
Companies in this article
Videos from BW Flexible Systems