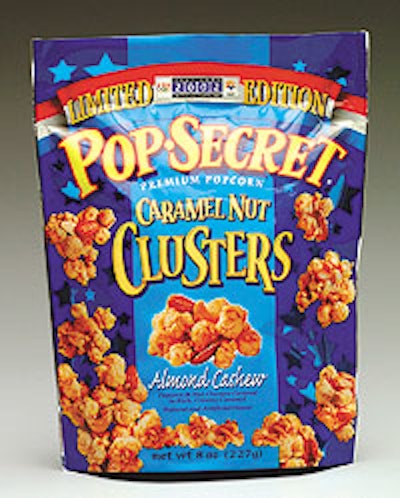 During the recent Olympic Games in Salt Lake City, consumers in the western United States could purchase Pop Secret Caramel Nut Clusters from Minneapolis-based General Mills in an 8-oz resealable stand-up gusseted pouch (1) made from rollstock converted by Printpack (Atlanta, GA). Judges of the Flexible Packaging Assn.'s 2001 Packaging Achievement Awards competition so admired the eye-catching pack that they gave it a Gold Award in the Printing Excellence category. (For additional coverage of the FPA awards, see pages 61 and 69.)
The 4.25-mil extrusion lamination includes an outer layer of oriented polyester that's reverse-flexo-printed in eight colors. The remainder of the structure is polyethylene/metallized polyester/ PE/2-mil sealant film modified with ethylene vinyl acetate. The structure provides barrier to both moisture and water to help the product achieve a nine-month shelf life.
"The graphics feature a red, white, blue, and gold banner that says 'Limited Edition, Salt Lake Official Supplier 2002,' along with the city's logo and the Olympic logo," explains Keith Schmidt, prepress manager at General Mills.
"We also had Printpack print the Pop Secret logo in large copy across the top with the clusters shown falling down. It also includes light blue stars on a dark blue background," Schmidt says, both of which show off the material's metallic luster. "We selected Printpack because they're our major supplier for flexible packaging.
"We don't have anything else like this," says Schmidt of General Mills's new snack. He tells Packaging World the gusseted pouch is filled by contract packager Roskam Baking (Grand Rapids, MI). The pouch appears to be filled on a horizontal form/fill/seal machine. A General Mills spokesperson says that the pouch's resealable zipper is from Minigrip/Zip-Pak (Manteno, IL).
Introduced in January, the product was available nationwide, with shipments ending in late February. The product sold at a suggested retail price of $2. At the time this issue went to press, General Mills was pleased with its market success, according to Kelley Walhof, GM spokesperson. "It's a promotional pack that was created for the Olympics for a limited time," she says. "Based on how well it does, we'll determine if we continue to sell it."
Fruity wraparound label
Another Gold Award winner in the Printing Achievement category is the full-body, shrink-sleeve label on glass bottles of new health beverages (2) from Fuze Beverage of Englewood, NJ. Alcoa Flexible Packaging (Richmond, VA) gives the 2-mil polyvinyl chloride labels their vibrancy with reverse gravure printing. The use of four-color process printing allowed Alcoa to produce the challenging vertical gradation down the length of each bottle while also keeping the enticing realism to the various fruits featured on each of five flavors. Total number of colors used in the print job is seven, as additional spot colors were used for the label copy.
Launched last August in convenience stores on the East and West coasts, Fuze beverages are now going national, says company president Lance Collins. They retail for about $1.45 each.
"This is often an impulse buy," says Collins. "Eye-appeal was all-important, and the best way to get that is with a full-body label."
Retro coffee bag
By developing graphics for a coffee bag (3) that projected the rich heritage of nearly 90-year-old Apffels Gourmet Coffees in a contemporary design, RJR Packaging (Winston-Salem, NC) earned an FPA Silver Award for Printing Achievement.
According to Ray Cate, account manager for RJR, the structure includes polyester that's reverse-gravure-printed in eight colors. The balance of the 4.5-mil adhesive lamination includes adhesive/ foil/adhesive/sealant film.
"Apffels came to us with their five-pound bag they had on the market, which was a bright blue with some metallic detail," recalls Michele Domadia, RJR's manager of design support. "It wasn't bad, but [they felt] it didn't convey their coffee or say anything about their heritage in the community. So they brought us a big box full of old photographs, previous advertisements and logos, and we worked with them to develop the current package. The new design features rich coffee-like browns, rusts, metallic golds, cream, and black colors," she notes. "It certainly speaks of coffee much more than blue did," Domadia contends.
Caron McIntosh, who heads up marketing design for Los Angeles-based Apffels Gourmet Coffees, agrees. "We wanted to celebrate the company's history, and RJR was able to capture that by using these photographs in the bag design. It shows our history through turn-of-the-century art, yet it appears contemporary and state-of-the-art."
The 5-lb bag, McIntosh says, stands about 19" tall and 7" wide. It has a degassing valve on the front panel and it's gusseted at the top and bottom. The weight of the coffee beans, combined with the gusset design at the bottom, turns the bag into a flat-bottomed package that stands up nicely for display.
Curiously, the bag is sold exclusively to foodservice customers. When pressed about the need for such outstanding graphics on a bag that isn't sold at retail, McIntosh says that the graphics appeal not only to customers who frequent the quality restaurants where the coffee is sold, but also to office coffee-service customers.
RJR typically sends the printed rollstock to an outside bag maker. In the future, Cate says the coffee company may also use rollstock to make its own bags on vf/f/s equipment it purchased about a year ago from Opem S.r.l. Macchine (Parma, Italy). An Apffels spokesperson confirmed that, indicating the vf/f/s machine was used for other coffee packages, but said that adding this 5-lb bag to the machine's production schedule would more fully utilize the equipment.
The Apffels spokesperson says that during filling the company nitrogen-flushes for added shelf life, though he wouldn't specify the shelf life.
Mouth-watering graphics
Rounding out the FPA award winners in the Printing Achievement category is a Gold Award winner: the Chick-Rib stand-up pouch (4). It's produced by American Packaging Corp. (Rochester, NY) for Springdale, AR-based Tyson Foods. Sold primarily through club stores for about a year now, the pouch must withstand temperatures as low as minus 25°F and still remain puncture-free.
American Packaging makes the pouches from a two-layer lamination consisting of 48-ga polyester/2½-mil PE. The polyester is reverse-printed in eight colors on a 10-color gravure press. "We wanted the package to 'pop out' in the freezer case," says Tom Cluck, creative services director at Tyson.
A zipper applied by American Packaging during bag making makes the colorful pouch reclosable. Tyson fills the bags through the bottom and seals them on what's described as "customized" machinery from Doboy (New Richmond, WI).
Cluck says the attractive and consumer-friendly reclosable package has generated positive comments from club stores and their customers. He also says Tyson is looking at a line extension that will make a similar package available in regular supermarkets, too.
To contact any supplier mentioned in this story, see: packworld.com/go/w005
Click here to see article: Technical innovation on display
Companies in this article