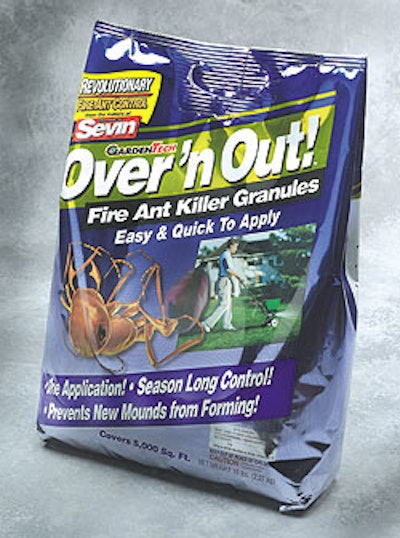 Gulfstream Home & Garden, Lexington, KY, this month introduces a new insecticide, Over 'n Out!, in the war against fire ants. The product's upscale packaging—shiny stand-up 10-lb bags and colorful, display-ready cases—should attract consumers as effectively as the granular insecticide attracts ants.
"Most consumers make the decision at point-of-sale about what product they select," explains vice president of marketing Darren Horst, "so we needed to create something distinctive enough that it would get their attention.
"We wanted to distinguish Over 'n Out! not only through graphics, but in how the product is merchandised at retail. Most granulated bagged products are sold lying flat, but our bags are merchandised standing up in a tray. That's why we have a grab-through handle on the bag—it makes it easy for consumers to pick up and carry one of the stand-up bags."
The company, better known as GardenTech, expects that the premium packaging for Over 'n Out! will also give it a leg up in the battle for market share. Horst says that the category is characterized by baits and by bottled liquid concentrates. Each bag of Over 'n Out!, which is guaranteed to provide season-long control with just one application, treats 5ꯠ sq' via a lawn spreader.
Primary plans
GardenTech decided it would use packaging to create the image of a premium product, which commands a retail price from $19.99 to $24.99. "It has to look like it's worth $25," Horst explains. "That's why we opted for the shiny structure, the gold banner, and the blue bleed, and the fade from top to bottom. Rather than opaque, the blue print appears translucent, so it will look considerably different from anything else that's in the market. With this product, we intend to underpromise and overdeliver to consumers."
The bag comprises a 4-layer, 6.5-mil film converted by Peel Plastic Products (Brampton, Ontario, Canada), which also flexo-prints it in eight colors. Outside in, the adhesive-laminated structure comprises a reverse-printed polyester/metallized PET/high-strength polyethylene-based film/high-barrier PE-based sealant layer.
Peel supplies the printed rolls to Contract Packaging (Covington, GA), which fills the bags on new Bosch Packaging Technology (Bridgman, MI) vertical form/fill/seal machinery. The vf/f/s machine also die cuts a carrying handle on the large top seal area of the 10-lb bags.
Primary and secondary package graphics are designed by Prather & Associates (Nicholasville, KY), which handles all of the company's design work. The graphics maintain a family look with GardenTech Sevin-brand insecticides that were introduced in bags in 1999 as part of a major redesign. In fact, based on the strength of Sevin's brand recognition that was uncovered in focus group testing, the graphics were refined to include that connection. "Noting on the package 'from the makers of Sevin' added a lot of credibility," states Horst. "Otherwise, the focus tests primarily confirmed what we had thought was true."
Secondary plans
The display-ready case manufactured by Wil-Mac Container (Conyers, GA) comprises three corrugated components: tray, protective perimeter pad, and cover. The bags are displayed in a 1 X 4 pattern.
The bags are packed in a tray with angled sidewalls constructed of 200# test, B-flute corrugated. During tray assembly, the sides are folded down and inserted into die-cut slots in the base to provide double-wall strength. The board is direct-printed flexographically in four colors including two custom colors, red and blue, onto the bleached white outer liner. The front and sides are die cut to leave an outlined portion printed with product identification and attributes (see photo). "That provides a 3-D effect," Horst notes.
A double-wall 200# test, C-flute perimeter pad that slides down inside the tray adds strength for shipment.
The telescoping cover that slides down over the entire contents is also flexo-printed in four colors directly onto 200# test, mottled white C-flute corrugated. The cover is taped to the bottom of the tray to seal the packaging.
At the store, the cover and the perimeter pad is removed, leaving the bag-filled tray ready for display.
Over 'n Out! sells in stores from Ace Hardware to Home Depot to Kmart in the 18 states afflicted with fire ants, primarily the southern United States. The introduction anticipates spring application when ants are most active and the product can be most effective, notes Horst.
"We couldn't be happier with the trade acceptance," notes Horst. "We're anxious and excited to see if we've hit the mark with consumers. I'll feel much better after it's been out for five months and we can gauge actual consumer acceptance." That's when they'll know if the ant killer has "legs."
Companies in this article
Videos from Universal Labeling Systems, Inc.