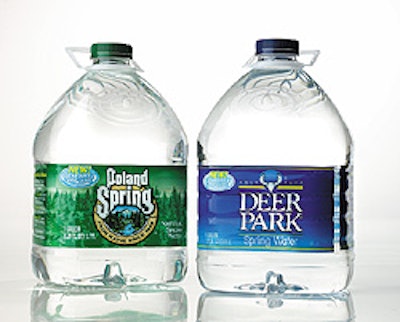 While gallon jugs of bottled water are traditionally made of high-density polyethylene, Perrier Group of America, Greenwich, CT, distinguishes its water by using clear jugs of polyethylene terephthalate adorned with stretch sleeve labels. Introduced in midsummer, the jugs are filled with three of Perrier's regional domestic brands of Deer Park, Zephyrhills, and Poland Spring. The new jugs are in addition to HDPE 1-gal jugs.
"The new package has a great shelf presence," asserts John Gruver, Perrier's national manager of package development. "It's a clear container that pops out on the shelf. And we feel it does a better job of preserving the water." The company codes the filled PET jugs for the same two-year shelf life as its HDPE jugs.
Perrier blowmolds and fills the 75-g bottles at plants in Zephyrhills, FL, and Hollis, ME. In Hollis, a new Husky (Bolton, Ontario, Canada) machine injection molds the preforms that are then blow molded on new equipment from Sidel (Norcross, GA) installed at both plant locations. The bottles feature a teardrop and circular wave pattern in the front and back shoulders. Filling is done on the same equipment used for HDPE jugs, and at the same 130-140 jugs/min speed.
Sleeve labeling is done by a six-station rotary system from Protection Decoration Conditionnement (PDC)-Europe (Austin, TX). The HC-6G machine die cuts a sleeve from a rollstock tube of polyethylene film, and mechanically applies it over the jug using four grippers. A sensor reads the clear band between print impressions to prompt the die cutter and application. The bottles are oriented so that the sleeve seam is unobtrusively located in a corner of the jug.
Atypically thick sleeve
The polyethylene sleeve label is reverse printed flexographically in eight colors by MRI Flexible Packaging (Newtown, PA). Although the label thickness is proprietary, Packaging World is told that it is heavier than the typical 2 mil. The thicker material helps the label to provide a smoother, uniform look so the jug's central ribs don't show through as much. MRI notes that the film separation is direct-to-plate, which decreased the turnaround time.
The container's attributes are emphasized on the printed sleeve labels. On the label front a violator declares "New! Clear Bottle Crisp Taste." Side panel copy states "Taste the Clear Difference," along with the following text (for Poland Spring):
1. New clear bottle locks-in and protects the natural freshness of Poland Spring Water.
2. Clear package retains crisp, clean, refreshing taste.
3. Contoured handle means it's comfortable to hold and easy to pour.
The jugs are topped with a color-coordinated 43-mm linerless polypropylene closure with a breakaway tamper-evident band from Kerr Plastics (Lancaster, PA). Just beneath the closure is a bail-style UniPak® handle injection molded of HDPE by PakTech-OPI Inc. (Eugene, OR) with finger-fitting scallops.
"The handle provides an ergonomically comfortable grip for carrying," Gruver points out. "The jug weighs more than eight pounds filled, so the finger grips make it a little more comfortable to carry. Versus our competitors' molded-in handle jugs, your fingers are going to be less sore with ours."
Gruver says the PET jug was designed with consumers in mind: "A large population of water drinkers prefer PET, especially people on the go. And they're accustomed to drinking water in PET already, in ½- and 1-L sizes. There's also a segment that wants to have larger sizes available. We're constantly receiving feedback from consumers wanting a larger PET container."
Gallon HDPE bottles, however, will remain part of the mix. Gruver says the capital equipment costs for a full conversion to PET, involving injection molders, blow molders, handling, and application equipment, would be too steep to justify at this time, especially when so much of the water market is so price driven.
Corrugated savings
Despite the price premium of PET compared to HDPE and the added handle, Gruver says overall costs were close. That's because Perrier was able to save "significantly" by converting from a 6-count double-wall case with a double-wall divider to a 6-count B-flute corrugated without a divider.
"The PET jugs have good top load strength, so we were able to save money on the corrugated by lightweighting," says Gruver. He adds that the overall packaging material costs for PET were only marginally higher than those for HDPE. The new jugs retail between $1.39 and $1.49, compared to the HDPE water containers' 99¢ to $1.29 pricing.
Companies in this article