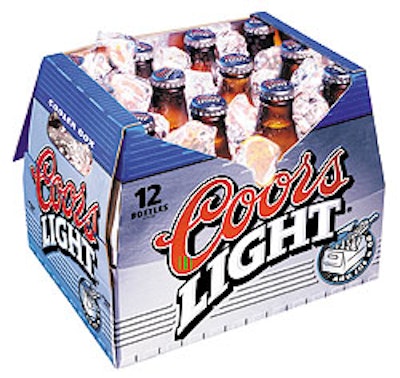 The cooler box resembles the typical 12-pack carton of Coors and Coors Light. But the cooler box is enhanced, using a 30-pt kraft paperboard with polyethylene film laminate. Converted by Graphic Packaging (Golden, CO), it helps keep the 12-oz bottles of beer as well as ice cool for up to eight hours. A perforated flap is removed from the top of the box to make room for the ice.
"Coors as a company looks for innovative ideas—usually in packaging," says Lori Varsames, a spokesperson for Coors. "The cooler box is a great package. It's just a great idea."
The disposable and recyclable package is gravure-printed in five colors. It can only be used once. The promotion runs nationally through Labor Day '01.
"The cooler box is a great added incentive," Varsames says, adding that it's too early to determine how sales of Coors and Coors Light fared in the Cooler Box. (ALR)
Companies in this article
Videos from Graphic Packaging International