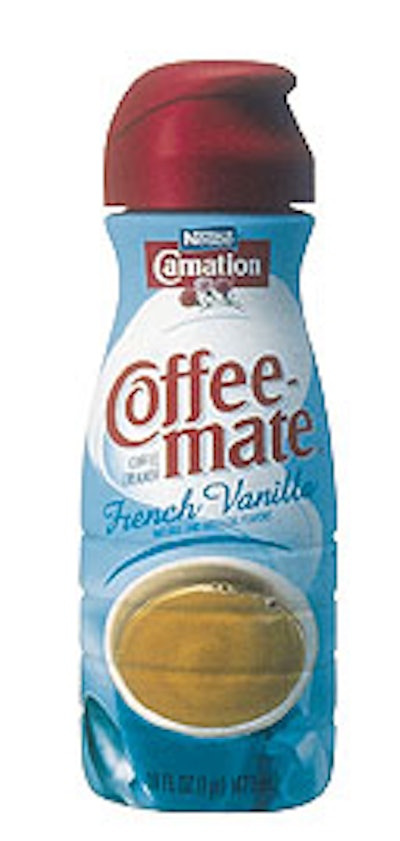 Complete details about material specs and filling technologies are not available. But at press time, what's known about the containers is that both consist of a plastic bottle, plastic threaded closure, foil membrane, and shrink-sleeve film label.
At Glendale, CA-based Nestlé USA, the move from gabletop to plastic for Carnation-brand liquid Coffee-mate coffee creamer reflects a trend similar to that of single-serve beverages. That trend is built on the widespread perception that a reclosable plastic container provides greater consumer appeal, protects freshness better, won't spill in the fridge, and is easier to open, reclose, and pour from than a gabletop carton. Rolled out in January, the 16- and 32-oz containers are sold in the refrigerated dairy case, as were its gabletop predecessors. The bottle is opaque white and has the PETE (polyethylene terephthalate) resin identification molded into its bottom.
A full-body shrink-sleeve label with high-impact graphics covers the container. The 2-mil polyethylene terephthalate glycol label is gravure-printed in eight colors at the Downingtown, PA, facility of Alcoa Flexible Packaging (Richmond, VA), formerly Reynolds Metals Co. The container is topped by a bright red, double-shelled, threaded closure that's remarkable for its size, its complexity, and probably–though Nestlé wouldn't comment–its cost. The closure's teardrop-shaped pour spout has a hinged, snap-fit flap that gives the package a convenient reclosure feature.
"We took a lot of time to develop the right cap," says a Nestlé spokesperson. "We wanted to be sure that the teardrop shape would allow perfect control and pouring accuracy."
The bottle is filled by the same four "dairy partners" that package Nestlé's NesQuik (see January '00, p. 66 or packworld.com/go/nesquik). Apparently, much of the same ultraclean extended shelf life filling equipment is used. Like NesQuik, the Coffee-mate container also has a tamper-evident foil lid sealed to the bottle's neck finish. The threaded closure completes the pack.
The new package costs more than its gabletop predecessor, says the Nestlé spokesperson. But indications are that consumers are willing to pay up to 20 cents more for the added convenience of drip-proof pouring and reliable reclosability, the spokesperson adds.
Meanwhile, Hershey, PA-based Hershey's 14-oz plastic ribbed gripper bottle for chocolate milk is due on store shelves later this summer. It, too, is opaque white plastic. But it bears no resin identification on its bottom, and Hershey isn't saying what the material is. The bottle's threaded plastic closure comes from Phoenix Closures (Naperville, IL).
Dallas-based Morningstar foods fills the container for Hershey as part of a strategic alliance between Hershey and Morningstar that was announced last August. An ESL filling system provides the same 60-day refrigerated shelf life as the gabletop container that is being replaced. Suggested retail price, says the spokesperson, is expected to remain "competitive." (PR)
Companies in this article