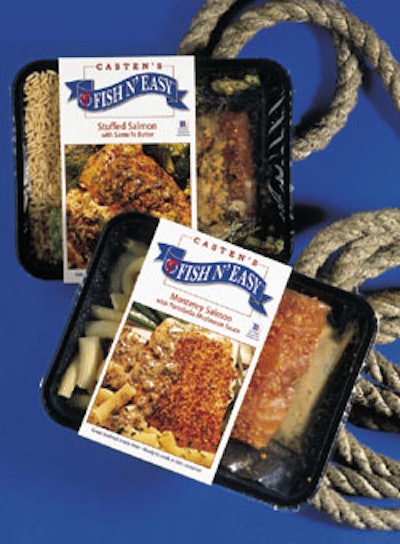 With case-ready fresh meat finally gaining momentum in American supermarkets, some retailers have begun to press for case-ready fresh fish. As with meat, key objectives include minimizing in-store labor costs and reducing the square footage required in the fish department. Also, retailers want to capitalize on the extended shelf life that comes with modified-atmosphere packaging. The goal: make sure that consumers consistently find the fish they want in stock, yet avoid the overstocking that leads to markdowns as expiration dates are reached.
OceanPro Industries of Washington, DC, has responded to retailer requests for case-ready fish by developing a seven-item line of entrees called Casten's Fish N' Easy. Consumers remove the clear lidding material from the crystallized polyethylene terephthalate tray and place the tray in a conventional oven for about 16 minutes. If they're in a hurry, they can microwave their dinner in under four minutes.
"It's fresh fish in a two-compartment cookable tray along with a starch and a packet of sauce," says production manager Jonathan Charmatz.
"We're trying," adds president Craig Casten, "to create a branded fresh seafood program throughout our region. We've added a precooked starch—rice, pasta, or potato—because that's what retailers are telling us the consumer wants: a full meal."
Consumers also want an easy cleanup when the meal is over, and OceanPro's plastic cook-in tray eliminates washing up altogether. "Plus," says Casten, "this addresses the widespread problem of people not knowing how to cook fish. The instructions are right on the package."
11-day shelf life
A combination of processing and packaging technologies enables OceanPro to give its packaged fish an 11-day shelf life. That's what retailers said they wanted, Casten claims, "Because it gives them two weekends to sell the fish."
Before packaging begins, the fillets are immersed in a 150-gal vat of what technical coordinator Ron Goodman calls "natural ingredients and flavorings."
"This includes," Goodman continues, "certain antimicrobials and antioxidants, all of them natural, though I'd rather not specify what they are. It's not so much a matter of 'killing' bacteria. 'Inhibiting the growth of bacteria' is a better way of putting it. Even something as ordinary as sugar or salt can act as an antimicrobial. As it enters the cell of the bacteria, water content is reduced, which means certain bacteria are inhibited from growing."
Goodman also emphasizes how important sanitation is.
"A lot of it is what you do to the fish before it goes into the dip," Goodman points out. "Cutting the fish on a sanitized board with a sanitized knife, for instance, goes a long way."
After three to five minutes in the proprietary dipping solution, the fillets are racked and fan-dried. Then it's on to packaging, done on a semiautomatic two-up system from Koch (Kansas City, MO). Ontray™ CPET trays come from Green-Tek (Edgerton, WI), which imports them from producers in Israel for distribution here.
Lidstock is 1.5-mil Mylar® OL13AF polyester from DuPont (Wilmington, DE). A heat-seal coating of amorphous polyester includes antifog additive so that the package contents remain visible to the shopper.
Maintaining a desired atmosphere
Both tray and lid exhibit sufficient barrier properties to keep the backflushed atmosphere inside the tray as close to optimal as possible. Oxygen transmission rate of the tray is 5 cc/100 sq"/24 hr, and that of the lidding is 3 cc.
Two different gas mixtures are used by OceanPro, depending on the fat content of the fish. Supplied by Praxair (Danbury, CT), the gas is a mix of carbon dioxide to inhibit bacteria growth, nitrogen so that the package doesn't collapse in on itself as CO2 is absorbed into the tissue of the fish, and, finally, oxygen. The O2 is essential because it helps prevent the growth of potentially deadly Clostridium botulinum bacteria that can grow in fish under anaerobic conditions.
The fear of such anaerobic spoilage has been a sizeable factor in preventing MAP fish from gaining ground in the U.S. At OceanPro, studies done on gas analysis equipment from PBI-Dansensor (Ringsted, Denmark) have Goodman and colleagues convinced that there is no danger. As Goodman puts it, "We put the oxygen in the pack and we conduct studies that show conclusively that it's still in there after 11 days."
Also rigorously monitored are the temperatures to which the fish is exposed. Clostridium botulinum is inhibited at temperatures below 38°F, so processing and storage areas are kept below that level, as are the trucks that take packs to stores and the in-store display cabinets. In-store temperature abuse is always a possibility, but soon-to-be-implemented time/temperature indicators should help in that regard, says Goodman.
What OceanPro has concocted, then, is a clever system of checks and balances that makes an 11-day shelf life possible. First, packaging materials make it possible to contain a desired atmosphere inside the package. Second, CO2 is backflushed to inhibit bacteria growth that causes aerobic spoilage. Third, temperatures are kept below 38°F and O2 is added to prevent anaerobic spoilage. And why doesn't the O2 react with fat to cause oxidation and rancid odors? Because the fish has been immersed in a solution whose antioxidants prevent oxidation for at least 11 days.
Shelf impact
An eye-catching paperboard sleeve surrounds the black tray.
"We used a sticker for awhile," says Casten. "But it didn't allow much room for graphics. A complete folding carton would have been too expensive, but this sleeve is a good solution."
The 18-pt sleeve is printed offset in five colors plus coating by Dixie Printing and Packaging (Glen Burnie, MD). Included is the well known McCormick logo and this little touch of cross-branding information: "Prepared with McCormick spice."
As of mid-May, OceanPro's Fish N' Easy brand was scheduled to be available in 60 Giant supermar-kets surrounding OceanPro's Washington plant. Store-door delivery has been used thus far, but OceanPro is now about to change that scenario by sending product through the central warehouses of distribution centers.
Cost to the consumer for the 11-oz meal? "We'd like retailers to sell these for $5.99," says Casten.
The firm isn't through experimenting, either. Some retailers have inquired about fish-only packs. Another is asking for multiple fillets in an MAP format that would then be broken down at the store level into individual units with a shelf life similar to that of fresh fish as it is conventionally handled.
In one format or another, fresh fish in MAP is bound to catch on, says Charmatz.
"Fish is traditionally very labor-intensive in a supermarket setting," says Charmatz. "Meat department managers have seen the advantages of centralized packaging, and it's only a matter of time before the fish department recognizes the same thing."
Companies in this article