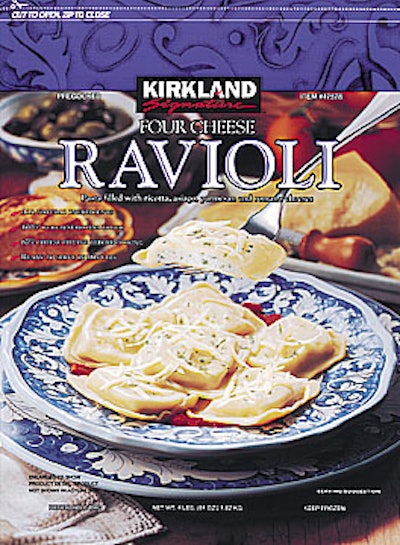 (Springfield, OH). The award was presented in March to Nordenia USA (Jackson, MO) at the PLGA meeting in Orlando, FL.
"Since we introduced this new package, sales of the product increased over 100 percent," says JoLynn Sanchez, packaging manager for Costco Wholesale (Issaquah, WA). Costco had previously tested a bag from Nordenia that used the same graphics as a previous box. Once the bag was considered a success, Costco's in-house packaging department did a complete graphics redesign that Sanchez credits to designer Kevin Biegel.
"Everything but the graphics remained the same," Sanchez tells Packaging World. "The reason we stayed with Nordenia and gravure printing is the high quality that we received even with the first bag. Naturally, we're very pleased with the sales increase, and also with the award."
Nordenia reverse-prints a 48-ga polyester film in seven colors (four process and three specialty colors) before laminating it to a three-layer coextrusion. The coex, says Nordenia president Paul Weidlin, offers a better inner sealant and improved coefficient-of-friction properties on the outside. The middle layer provides strength properties that are helpful when the frozen product is filled into the premade bags.
Nordenia also fabricates the printed web into bags and incorporates an undisclosed zipper for consumer convenience. (AO)
Companies in this article