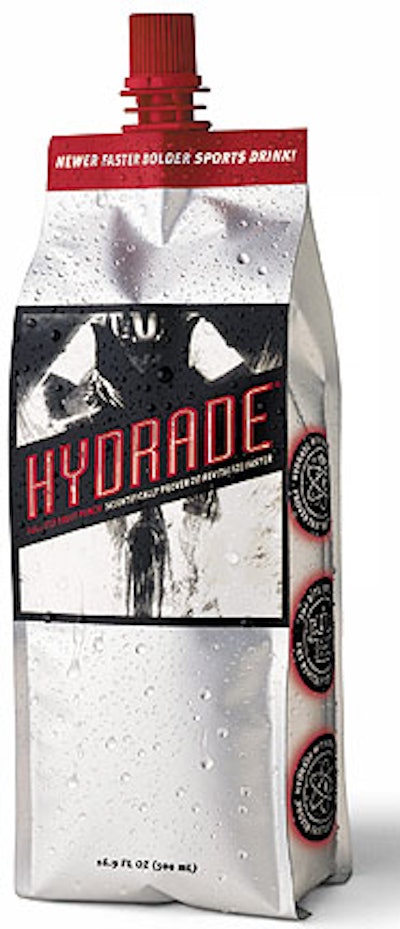 The U.S. sports drink category will have a dramatically different look with the debut of Hydrade® sports drinks in 500-mL (16.9-oz) stand-up pouches from Hydrade Beverage Co. (Dallas, TX). The pouch structure is a four-layer barrier lamination of ½-mil polyester/ ¼-mil aluminum foil/½-mil polyester/4-mil polyethylene. The polyester is DuPont's (Wilmington, DE) Mylar®, and the outer Mylar layer is reverse-printed in three colors by rotogravure.
Since Packworld.com first broke this story in exclusive coverage posted on our Web site on Dec. 4, 2000, Hydrade has informed Packaging World that the pouch is the CheerPack supplied through licensee Hosokawa Yoko Co., Ltd. (Tokyo, Japan).
The company's management expects the pouched sports drinks to be on-shelf in four varieties around May. Package manufacturing and filling is done overseas.
The packaging will do a lot for consumers, according to Robert Quirk, Hydrade's president and chief executive officer. He also hopes it will do a lot for the young company by helping it to capture valuable sales space in the highly competitive sports drink segment dominated by familiar "ade" brands.
President and CEO Robert Quirk says the new container for the sports drink has to be an on-the-go package. It also has to be:
• unbreakable, which eliminated using a new glass bottle design
• resealable via a screw-on cap over the fitment, and
• "environmentally friendly."
Quirk says that although the package is currently not recyclable, it can be easily compacted after use to take up little volume for disposal.
The package is also easily and dramatically merchandised. "It stands up and provides a nice clear view of the graphics," explains Quirk. He says the pouch's functionality is such that the entire contents can be drained with the pouch held in any orientation, including upside down.
"Another advantage of this package is its great insulating ability compared to bottles," claims Quirk. "It gets colder quicker and stays colder longer."
This combination of attributes led Hydrade to select what Quirk refers to as the "Mylar pouch." He points out that this type of polyester-based stand-up pouch is highly popular in Asia and elsewhere outside the United States. "We believe this package [concept] will be increasingly important in the United States over the next decade," he opines. In fact, Gatorade™ is sold in the CheerPack pouch in Japan and the Philippines.
Quirk says this pouch design is the supplier's latest design, a new, sleeker version of a more squat pack that has been used in Asian markets.
Perfect match
"The packaging has to be unique, advanced and high-tech, just like our product," says Quirk. "We felt the pouch was a great 'personality' match to the product. It's great packaging."
According to Quirk, Hydrade spent a long time negotiating with a number of U.S. and non-U.S. suppliers before making a final choice. The pouches will initially be manufactured in one country as preformed pouches, shipped to another for contract filling and then shipped to the United States for distribution.
Filling, done through the fitment, is a cold-fill process, explains Quirk, similar to that for soft drinks. The spout, in combination with the pouch design, allows the drink to be sipped or squeezed.
Hydrade is negotiating to bring high-speed filling on-shore, perhaps this spring, Quirk says.
The Hydrade pouch measures just under 3'' wide and stands 7 ¼'' high with 2''-wide gussets. The 8 ½-mm plastic fitment, which is color-coordinated to the product variety, extends about an inch above the pouch top. A small tamper-evident ring is at the base of the fitment. The pouch uses no inner seal.
The buried aluminum foil layer gives the pouches a high-tech, silvery appearance. It also provides enough barrier—the resulting oxygen transmission rate is less than 0.15 cc/m2/atm—for an anticipated one-year shelf life, Hydrade says.
'Instant' credibility
"We will be the first and only sports drink company allowed [by the vendor] to use this packaging in the United States," explains Quirk. "For a small startup company, [the supplier] has given us a pretty good endorsement by allowing us to introduce it into the United States, which they know represents a huge potential market for this pouch."
Hydrade will be sold as single pouches for around $1.69 in locations including convenience stores, PW is told. Quirk points out that the pouch has application for military use as well as other outlets that currently do not sell soft drinks such as sporting goods stores. Graphic design, which mimics that of Hydrade's previously introduced 20-oz and 1-L PET bottles available in select markets (see Jan. '01 p. 65), is through the assistance of Sibley Peteet Design (Austin, TX).
Hydrade will initially be available in four pouched flavors, each with color-coordinated graphics and a matching color fitment. The front panel's black-and-white background visuals are keyed to the particular flavor: Basketball with grape, running with lemon-lime, biking with fruit punch, and soccer with orange.
Gussets gussied up
The company's attention to merchandising details is also evident in the pouch's 2''-wide gussets, which will carry circular product icons along with text that declares, "That burst of bite is the revitalytes."
These black icons will be highlighted by a color-coded "glow" effect, again matched to the product variety.
Another well-executed detail is that the front-panel artwork is located on the top half of the pouch. Carolyn Koon, senior vice president of marketing, explains that when the product is merchandised in rows, product recognition is improved more in this manner than if full-panel art had been used. "This makes the strongest on-shelf impact because it's not obscured by the pouch in front," she says.
"Innovation is the real key in this category, and we believe the pouch will serve as a packaging innovation for the company," Koon continues. "We also believe it will generate awareness and growth for the brand and our company."
Companies in this article