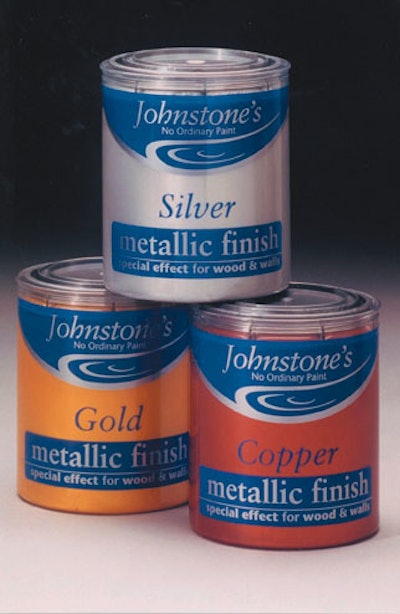 The term "lever lid" refers to the fact that the lid, a separate piece, can be pried off with a screwdriver using the rim as a lever.
Light, dent-resistant and rust-proof, plastic paint cans have been widely available in the United Kingdom for some time. Until now, they've been injection molded of polypropylene in two pieces: an open-topped can body with a separate rim spin-welded on to accept the lid.
Why a separate rim? Because permitting the lid to fit tightly requires an undercut that would be difficult to eject from the core of the injection mold tool.
In addition to requiring three separate manufacturing operations, two-piece spin-welded PP paint cans' other drawback is that the polyolefin can't hold oil-based paints, solvents or varnishes. PET would have made sense, but PET pieces can't be spin welded.
That's why Kalon's can is so significant. Weighing approximately 55 g and holding 750 mL (25.35 oz), it's injection/stretch blow molded by RPC Containers (Blackburn, Lancashire, England) on a single-stage SB3 250/100 system from Aoki (Elk Grove Village, IL). RPC is an exclusive United Kingdom licensee of the PCC Group (London, England), the firm that invented and patented a unique way of injection molding and demolding a preform despite its large undercut. Kalon, a leading United Kingdom paint marketer, is using the clear PET containers for three "special-effects" paints that are part of a new line called Johnstone's No Ordinary Paint.
Clear pressure-sensitive film lablels are printed offset in six colors. "Clear plastic containers have added a new dimension to paint packaging, creating excellent on-shelf impact and enabling color to be merchandised effectively for the first time," says Matthew Baines, Kalon's independent retail marketing manager.
The cost of the container compared to other alternatives remains unclear. "When the technology is more mature and cavitation in the molding equipment can be increased, I would guess the PET can will cost about 20 percent more than steel," says Baines. Richard Graham of the PCC Group says that in sizes up to 1 qt, "Our cans should be cheaper than those made by existing technology, whether in metal or plastic." Graham also says that PCC Group has begun trials of a larger PET can, weighing about 170 g, that has bale lugs identical to the standard 1-gal steel can popular in the U.S.
Companies in this article