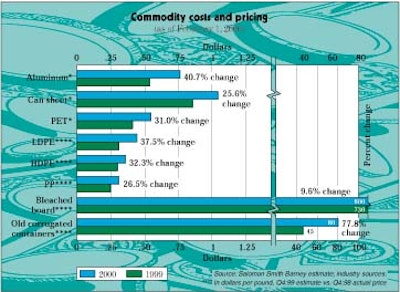 Yes on politics and public policy but also in our business—the selection of packaging for our products—economics can be the principal factor.
Facing the windfall of the first federal funds surplus that many of us have ever known the President could propose a "something for everyone" Christmas wish list. A few nights later Illinois Governor George Ryan did much the same in his address. And that followed a $12-billion public works initiative announced earlier. One other comparison: Both leaders are operating under a cloud of personal or bureaucratic corruption.
Many of us who make packaging decisions for our companies have lately been operating under similar economic conditions: Prices for many packaging materials have been artificially low for so long that it's affected (as it should) our selections. Many of us on the buying side of the packaging equation have been enjoying our shopping at essentially what might be called "sale" prices. This appears to be ending.
About 15 months ago I told a Michigan State University packaging seminar that I felt 1999 should be a year of major packaging innovations in no small part due to the low costs of most materials. But I also cautioned attendees that if prices remained low too long supplier investment in research and development would dwindle and would have to be replaced by investments made by end users.
"In every year [of the decade] except 1995 [the paper industry] failed to make enough to justify current investments" George Mead chairman of Consolidated Papers (Wisconsin Rapids WI) told a paper industry publication earlier this year. "So here we are hunkered down with challenges not excitement." Consolidated makes paper for packaging and other uses. Although most paper producers have been aggressively reducing costs the savings only offset the price declines he says.
Last summer the president of one of the largest producers of plastics for packaging said he felt we had reached the time for higher prices and he was cautioning his customers to expect it. He felt that it was necessary for the continued viability of resin and plastics packaging manufacturers.
By the middle of last year many companies that supply packaging or packaging's raw materials began to take the steps to force the marketplace prices to rebound. Some paper producers consolidated and reorganized as a way to begin to trim the excess capacity that was keeping prices low.
Not long after Smurfit-Stone Container Corp. (Chicago IL) announced its merger it put into place a restructuring plan that would cut its containerboard capacity by 1.1 million tons to help the new company bring more closely into line its containerboard production and its needs for containerboard in making corrugated containers. Other producers made market-related shutdowns that are now resulting in a 6% decline in capacity. This has already had a noticeable effect on prices of corrugated sheet and containers that is likely to continue. Although the situation in plastics was completely different the outcome was similar. Resin prices had plunged with the slowdowns in both Asian and European economies. Then last year not only did these economies begin to rebound but production cuts in crude oil by OPEC caused raw material prices to soar. Eventually resin prices began to increase and so did the costs of containers and film and sheet.
Not even seasoned industry experts expected that the price of high-density polyethylene would be up 50% in '99 according to Koch Chemical (Houston TX). "No one could have predicted the level of volatility in the resin market that we saw in 1999" says Koch's Jay Hall. He notes that Koch's Commodity Risk Management Group had forecast HDPE prices to stay around 30¢/lb for the year instead of rising to 4¢/lb.
"Any resin consumer or converter that began hedging at least a portion of their supply needs is now looking brilliant" Hall says.
Even the wunderkind of plastics polyethylene terephthalate has seen its growth slow in '99. Although Salomon Smith Barney is temporarily not rating month-to-month shipments of PET containers its analysts say that growth last year was "relatively slow" in the mid-single-digit percentage increase well down from 20% growth a year earlier.
Is the "sale" on packaging materials over? Since we now operate in markets that are global in nature the number of variables that affect price make predictions daunting. It does appear that companies and purchasing people accustomed to three years of low costs will need to sharpen both their "pencils" and their buying skills.
Companies in this article