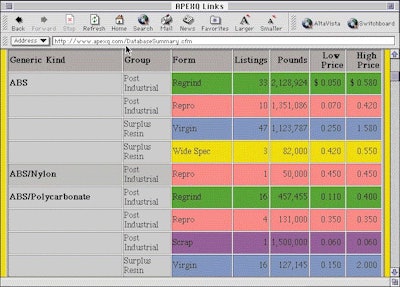 Smurfit Recycling Co., which claims to be the world's largest collector and marketer of recycled paper, now also buys scrap aluminum, steel, plastic and glass. If you have such materials to discard and would like to see what SRC will pay you, point your browser to j-src.com/mms (no "www" in front).
There's nothing glitzy about the site itself; you just fill out a simple form indicating the material you have to sell, note whether it's densified, baled or loose, and specify the quantity in tons. After clicking a send button, users are informed that a Smurfit representative will be in touch with a quote. Rocket science it ain't, but it's fast, simple and convenient.
While the service is geared towards buying scrap from material recovery facilities across the country, a Smurfit spokesperson told PW that packagers can also use the site to unload scrap or unuseable packaging materials.
If you're just looking to recycle steel-food cans, drums, or other steel materials-tap into the Steel Recycling Institute's comprehensive national database of steel recovery facilities at www.recycle-steel.org. Simply fill out a form with your name and address, and within minutes a list of facilities in your area will be delivered via e-mail.
Of course, if plastics is your game, you'll want to check out the American Plastics Exchange at www.apexq.com. This site, which bills itself as the largest database in the world for buyers and sellers of scrap plastic and surplus resin, gives a complete rundown on current prices for a wide variety of resins, including the current quantity available, in tons.
There's a catch: for names and phone numbers of sellers, you have to pay a fee for web, fax or phone delivery.
Another forum for connecting buyers and sellers of all types of recyclable packaging materials is the Chicago Board of Trade's online trading market at cbot-recycle.com (no "www"). The site, which consists of a searchable database of currently available recyclable commodities, charges a modest $10 one-time registration fee for buyers or sellers. Sellers pay a "small charge" for listings in the database.
Buyers enter their parameters into the system, which delivers-via e-mail-any matching listings. It also promises to deliver future listings matching your criteria as they are posted by sellers. The site also has extensive information on definitions, specifications, and test methods for such materials.
Electronic bookshelves
Associations and trade organizations have long been repositories of valuable information for packagers, and now the World Wide Web has made it easier to access such reference information.
The computer hacker's saying "Information wants to be free" takes on real meaning at the web site of the Uniform Code Council, the organization responsible for creating bar-code standards and specifications. By pointing your browser to http://www.uc-council.org/ pidmp.htm, you can see a list of many of the organization's bar-code standards and manuals, most of which are available for immediate download. We say "most" because a few of the publications are not on-line, and must be purchased instead, though it's unclear why.
For the majority that are on-line, clicking the title of a manual or standard pulls up the full text and illustrations-including actual sample bar codes-that are contained in the manual. It's like having a free, on-line reference bookshelf of bar-coding specifications.
The site could be improved by adding a full-text search engine to allow users to quickly pull up the information they seek by entering a keyword.
Another standards body-the century-old American Society for Testing and Materials (ASTM)-has gone high tech. Its site, at www.astm.org, does have a full-text search function that makes it extremely easy to pinpoint a specific standard. We entered "packaging" and counted 236 responses. The search engine also permits boolean searches-otherwise known as "and/or" searches. For example, we tried "packaging and films," which cut down the number of responses to a more digestable 22.
However, when you click on one of the standards yielded in a search, you typically see just a summary of the standard. To see the whole thing, you must fork over $15 via credit card for delivery of the information via web or fax.
Another organization well-known to packagers of all stripes, the Packaging Machinery Manufacturers Institute, also has a very valuable resource at its PackNet site-a handy, searchable database of packaging machinery suppliers. By pointing your browser to http://www.packnet.com/masrcfrm.htm, you can find all of almost 400 PMMI members in the U.S. or Canada.
You can choose from over 100 different detailed categories of packaging equipment. Searches yield a concise listing of company names and the states in which they're located. Clicking on a particular company provides a basic listing including address, phone, contact name and major lines of equipment. There's a link to the company's web site, if they have one.
The one drawback is that the database is limited to only PMMI member companies, rather than the total universe of machinery suppliers, excluding many foreign suppliers. Still, it's a well-designed search engine that makes a satisfactory starting point for conducting a supplier search.
If you'd like to share an interesting web site, send your suggestion to webplus@packworld.com.
Companies in this article